Stormwater Quality & Permitting Support Activities
Ken MacKenzie, Senior Project Engineer, Master Planning Program
UDFCD continued to be active in the stormwater quality arena in 2008, with commitments to the following organizations and activities:
Colorado Stormwater Council (CSC): The CSC celebrated its one-year anniversary as a Colorado non-profit corporation in October 2007. The CSC is an organization for Colorado MS4 permit holders. It acts as a forum for municipalities and municipal permit holders; enables exchange of technical information regarding stormwater regulations and compliance with permits; serves as a voice for its members at regulatory hearings or meetings; educates members; and aids in the development and implementation of stormwater programs at local and regional levels. I am proud to serve on the Administrative Committee and chair the Technical Review and Advisory Committee for this fine organization. If your organization holds a Colorado MS4 permit, I urge you to become a dues-paying member of the CSC. For more information, visit their website at
www.coloradostormwatercouncil.org.
Colorado MS4 Stormwater Group: The District continued to host quarterly meetings to discuss stormwater issues in 2007. These meetings were open to all Colorado communities affected by the Clean Water Act, which requires permits for municipal separate storm sewer system (MS4) discharges. These meetings served as a forum to exchange ideas and experiences, set up workgroups, and report on accomplishments. In 2008 I will merge these meetings into a quarterly "special session" of the CSC monthly meeting, possibly as a catered luncheon.

Structural BMP Testing: The District's program to monitor and test structural BMPs continued in 2007. We completed construction of a new open-bed sand filter BMP at the Lakewood city shops, an industrial setting where the District has put many BMPs to the test over the past twelve years. We were able to sample water quality through this BMP for a few storms in 2008 and will continue monitoring stormwater quality for this, for an adjacent porous-concrete pavement site, and for an extended-detention basin at Grant Ranch in south Denver for several years. Additionally, we hope to construct a side-by-side porous asphalt and modular block pavement test site in 2008 at the Denver wastewater building, if we can get required assistance from the Colorado Asphalt Paving Association to build it.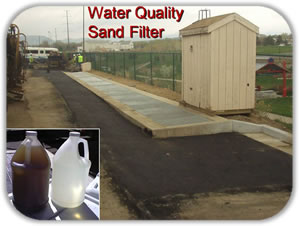 New open-bed sand filter test site. This BMP may offer an economical solution for ultra-urban stormwater quality treatment