Master Planning Program
Ben Urbonas, PE, Program Manager
After 31 years with the District and the Master Planning Program, I have decided to retire in 2008. My last day at the office will be in April. This will be the last time I will be writing this article for the Flood Hazard News. It has been a gift to have been given this outstanding opportunity to work at the District and to interact and work with so many talented individuals within the District and throughout Colorado, the United States and many countries around the world.
I have seen many changes in those years. Although we were already using calculators when I first joined the District (vs. slide rules), we proceeded to develop software and embrace the computer age over the years. It is hard to imagine and remember pouring over accounting sheets when doing CUHP and cost/benefit calculations in our master planning projects. It took hours to do what we can do in minutes now.
Many of the concepts and practices that we take for granted now were being scoffed at or just beginning to gain acceptance, such as the use of on-site detention, keeping waterways open, and considering landscaping, aesthetics, multi-uses and terrestrial and aquatic concerns in the design of waterways and detention facilities. The issue of considering water quality was only on the edges of our radar screen.
Today, in this region, we have an exemplary system of open green waterways and well functioning stormwater systems, one that has yet to be paralleled anywhere in the world. It still amazes me when I travel how many professionals in our field know of the District and, especially, it's Urban Storm Drainage Criteria Manual. I hope I contributed somewhat to all of this. Leaving the District stirs up feelings of sadness, but I leave with much pride in having had been a part of all the many changes and progress we have seen here in the last 30 years.
My special thanks go to Scott Tucker and David Lloyd for putting up with me for all these years and running cover whenever knowingly or unknowingly I stirred up things among our local governments, with the State and even with the Federal government. I will miss doing that a lot.
At this time David Lloyd has not announced who will replace me. I am confident that whoever he chooses will do a great job in continuing what was started and will advance it all to a new level. I wish him or her much luck and success and offer the following advice: Approach the job with joy and with an attitude that you can make a difference. The rest will take care of itself; while the occasional bumps and bruises you get will quickly go way and be forgotten.
Although I will no longer be with the District, Denver is home for Irena and me. My grandchildren will see more of me, whether they want to or not. Also, some of you will probably see me through my association with the Urban Watersheds Research Institute and professional organizations, which I hope to maintain for the foreseeable future.
Planning Projects
One planning project was completed in 2007; 9 projects were under way; and we hope to begin 5 new planning projects in 2008. We now have a total of over 135 completed watershed-level major drainageway and outfall system plans in our inventory, including updates of master plans completed in the past.
Urban Storm Drainage Criteria Manual
All three volumes of the Urban Storm Drainage Criteria Manual (USDCM) are posted on our web page, namely, www.udfcd.org for you to download. If however, you would like to order a printed three-ring binder for Volumes 1 and 2 we still have a limited supply in our inventory. You can purchase them by contacting Margaret at our front office. Each posted chapter is marked with the revision date and I encourage you to check for latest updates.
This year we posted several corrections and an update of the Construction BMPs chapters of Volume 3. Most figures for that chapter are now in AutoCAD format for you to download and use. Do not forget to download the supporting spreadsheets that we have developed for many of the chapters of the USDCM.

In support of the update to the Construction BMPs chapter, UDFCD contracted with Scott Olson to develop a one-day training class on construction management when working in waterways (i.e., Waters of the Sate). These classes will be available to everyone starting in 2008 through the District. First priority will be to accommodate local government officials, but individuals in the private sector will also be accommodated. Initially we will try to schedule classes once a month for as long as there is demand and then we will cut back on the schedule. Our initial estimate is that we will charge $100.00 to cover the cost of the instructor, lunch, coffee and tea breaks. Keep an eye out for notices from UDFCD and postings on our web site for the schedule of these classes.
Software and Criteria Manual Users Support Group
I would like to remind everyone that we set up a user group titled "UDFCD Computational Tools and USDCM Support Group" with a website address: http://groups.google.com/group/UDFCD-support. It was done to help us at UDFCD support the Criteria Manual and software/spreadsheets and for you to share problems you have encountered, to raise questions and to discuss your thoughts about any of these products with others and us as well. We post messages through it whenever new versions of the spreadsheets, software or Manual updates are uploaded to the District's web site.

In other similar user support groups, many of the solutions and "fixes" are suggested by the users themselves. We will address all issues, questions and needed "fixes" if you let us know through that vehicle.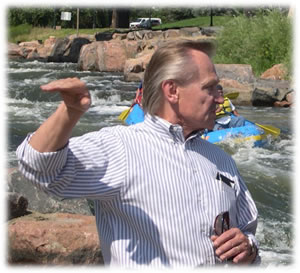 Ben Urbonas describing how the Confluence Park boat chute works.
If you have not already done so, go to the above "groups" website and sign on. Check one of the options to receive one e-mails in order to receive notices and message we post.

District's Software
You may download the District's CUHP and other software from our web site www.udfcd.org. Select "Downloads" followed by "Software". To download the companion EPA SWMM software go to the EPA's web page http://www.epa.gov/ednnrmrl/models/swmm/index.htm. In addition to the above, new versions of UDPOND and UDSEWER that contain corrections and updates, including a profile plotter for the latter, are now available for downloading.
District's Annual Seminar
At our February, of 2007 seminar we had over 250 registrants. The proceedings are available at: http://udfcd.org/conferences/conferences.htm On February 26, 2008 we will have our next annual conference/seminar. The program is still in development, but we know that it will be at the Stapleton Doubletree Hotel and the registration fee will be $50.00 to $60.00. Register early and join us. We again promise you a diverse and timely program.