Floodplain Management Program
Bill DeGroot, PE, Program Manager
Digital as Official
The Federal Emergency Management Agency (FEMA) has been preparing Digital Flood Insurance Rate Maps (DFIRM's) for several years and then converting them to paper panels. Converting to paper panels adds significant costs and 6-12 months to completion time of the panels before local governments, lenders and insurance agents can use them. In 2004 the Congress passed legislation which would allow FEMA to utilize digital products as the official Flood Insurance Rate Maps. The National Association of Flood and Stormwater Management Agencies (NAFSMA) and the Association of State Floodplain Managers (ASFPM) have been urging FEMA to take advantage of this opportunity to use digital products to save time and money in getting DFIRM's completed and distributed. Unfortunately, FEMA has yet to embrace this opportunity.
Colorado has adopted the Uniform Electronic Transactions Act, which allows the District and local governments to use electronic documents as official documents. Meanwhile, our consultants have been preparing their work products for us in electronic form and then converting them to paper.
In September, the District's Board of Directors passed Resolution No. 68, Use and Reliance Upon Electronic Records, in order to position the District to better utilize the electronic documents our consultants are already preparing for us, as well as DFIRM data bases as they become available.
The resolution adopts an electronic records policy, authorizes the Executive Director to prepare and adopt a policy to implement the provisions of the resolution, and encourages all local governments within the District to adopt an electronic records policy in regard to digital floodplain maps similar to the one being adopted by the District. We are researching the best way to implement this resolution.
District Levee Policy
Three fairly recent events brought home to us the need for a levee policy that discourages the use of levees for new development in the floodplain: The levee failures during Hurricane Katrina; California's realization that they need about $10 billion to repair their levee systems; and FEMA's map modernization program in which FEMA is getting much tougher on which levees they will recognize and the burden they are putting on local governments to maintain and periodically recertify them.
As FEMA says in one of their levee fact sheets:
The fact is, levees can and do decay over time, and maintenance can become a serious challenge. When levees do fail, or are overtopped, they fail catastrophically. . .

Fortunately we have very few levees in the District and we would like to keep it that way. In January the Board of Directors adopted a levee policy which discourages local governments from authorizing or permitting levees for new development, and states that these levees would not be eligible for District maintenance assistance. It would allow the use of levees as a last resort to protect existing structures.
Public Information Program
In 2006 we made a significant change in the format for the flood hazard information brochures we have been mailing to addresses located in or near 100-year floodplains delineated by the District. Each brochure is tailored to a small number of drainageways, and includes specific information about the drainageway(s), sources for the floodplain information, local government contacts and phone numbers, flood insurance, and information about flood warning plans if the exist for the drainageway.
This was the second year we mailed brochures with all of the same information described above. However, instead of a map of each drainageway we included instructions on how to access a floodplain map on our web site using an address search engine to show floodplains on a photo background and a star near the requested address. The floodplain map is a compilation of all of the digital floodplains developed for completed or nearly completed Digital Flood Insurance Rate Maps (DFIRM's) supplemented by additional floodplains mapped by the District.
Leonard Rice Engineers developed the process for us and hosts the map on their server. We have been working on using more recent photos that we have access to, and to speed up the download process. One problem we have yet to overcome is the need for an SVG enabled browser. Most libraries don't have SVG enabled browsers which shuts some people out of the process.
Floodplain delineation
We completed three flood hazard area delineation (FHAD) studies this year: Clear Creek in Jefferson County, Hoffman Drain in Adams County and Thornton, and Lower Lena Gulch in Wheat Ridge and Lakewood. We have FHADs underway for Dutch Creek and Tributaries in Jefferson County and First Creek in Denver and Aurora. We also have two "mini-FHAD's" underway to clean up portions of old FHAD's that we know have changed but the changes were never documented. These studies are for Greenwood Gulch in Greenwood Village and Centennial, and Little Dry Creek in Centennial.

All of these studies are prepared in digital form compatible with FEMA's DFIRM specifications, and have been or will be incorporated into the appropriate DFIRMs.
DFIRM conversion projects
In 2004 we received FEMA DFIRM conversion grants of $480,000 each for Adams County and Arapahoe County. The District has contributed $70,000 for each county and the Colorado Water Conservation Board has contributed $50,000 each.
Unfortunately, both projects have taken longer than anticipated, due primarily to the lack of backup data in the Michael Baker Jr., Inc. library. We have had to scramble to find other reliable sources and this delayed the process. This was particularly true for Arapahoe County, where we had the additional problem of integrating Aurora and Littleton into the map.The Adams County DFIRM is done, with an effective date of March 5, 2007. We are hopeful that Arapahoe County will go effective in late 2008.
In 2004, the District received a $240,000 grant from FEMA, to be matched by $30,000 each from the District and CWCB, to convert the Jefferson County DFIRM to the NAVD 88 datum. We are also adding several FHAD's (Ralston Creek, Leyden Creek, Massey Draw and North Tributary, SJCD (South) and Tributaries, Clear Creek, Lena Gulch and Dutch Creek and Tributaries) and about 50 new LOMR's to the database. The contractor is ICON Engineering.
When we are done with this project, now scheduled for March 31, 2008, we will have a very good database sitting on a FEMA server somewhere that no one can see or use, because we don't have enough money to complete all of the work necessary to publish new paper panels. To try to remedy this situation we have been asking FEMA to let us do a pilot project to adopt the digital maps as the official documents, thereby bypassing the need for large numbers of paper maps and the time and expense of getting them done. No luck so far, but we are continuing to push the idea.
The Boulder County DFIRM conversion project, which is being managed by the CWCB has also been delayed, but should go effective sometime in 2008.
Maintenance Eligibility
Our maintenance eligibility program continues to flourish under David Mallory's direction. Also, I want to recognize him for spending several hours in a helicopter taking photos of District projects and maintenance eligible projects. See David's column elsewhere in this issue.
LOMC pilot project
We have been reviewing requests for Letters of Map Change (LOMC) for FEMA since July 1, 2001. In the early days our work was subject to a fair amount of review by Michael Baker Jr. Engineers on FEMA's behalf. As we got more and more experience Baker's review times went down and we began to assume additional responsibilities. In 2007 we took over responsibility for all uploads to the Mapping Information Portal (MIP). We are pleased to have gotten to this point.
We have identified a number of advantages to the District being in the position of reviewing the LOMC requests at the local level. These are contained in our annual reports to FEMA that are posted on our website. We found this to be particularly advantageous with a very contentious CLOMR request this year. See David Mallory's column for a full account of this case.
Implementation efforts
Implementation of portions of our master plans, particularly regional detention facilities, is always a challenge. We completed execution of an Intergovernmental Agreement (IGA) with Denver and the US Fish and Wildlife Service (USFWS) for the construction, operation and maintenance of a number of facilities in the Irondale Gulch watershed on the Rocky Mountain Arsenal Wildlife Refuge. Our next step will be to negotiate a companion IGA between the USFWS and the downstream Commerce City and Adams County.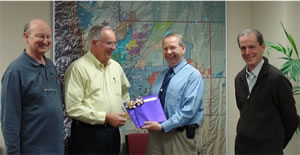 In the spirit of the holiday season, Randy Schnicker from Denver Public Works delivers fully executed copies of the Irondale IGA to Executive Director Dave Lloyd, with Bill DeGroot (l) and Dave Bennetts as witnesses.
FasTracks Coordination
We have continued to work with the Regional Transportation District (RTD), Denver, Lakewood, Golden and Jefferson County on RTD's West Corridor light rail project. We will have funds in three implementation projects on the South Platte River, Lakewood Gulch and Dry Gulch which will be constructed in conjunction with the light rail construction. We are also reviewing RTD's construction drawings for other drainage projects for District maintenance eligibility. We are also working with RTD and their consultants on environmental impact statements for four other transportation corridors.
Check these out on our website
We have a photo album showing good examples for others to emulate.  We also have an Activity Summary map that identifies all District studies completed or in progress that we update quarterly.  It would be a good idea for anyone working on a drainage study in the District to check this map for existing or on-going studies that might affect their work.
All of our FHAD's (and master plans) are posted on our website under the Publications tab.  You can save yourself some time and gasoline by looking there first rather than heading for our library, although the library is still open and fully stocked.