Dr. James C.Y. Guo Receives First Friend of UDFCD Award
In 2007 the District initiated the Friend of UDFCD award with the intent to recognize individuals that have significantly and selflessly contributed to the field of stormwater and flood management and its technology in the Denver Region and within the State of Colorado.
In February, 2007, the recipient of the first Friend of the UDFCD Award was Prof. James C.Y. Guo, Ph.D., P.E. He has contributed his professional time and energies for over 20 years to advance the technology and its transfer within Colorado to others in the fields of hydrology, hydraulics and urban storm drainage system design and analysis. In addition, he developed software for the District for the analysis and design of open channels, storm sewers, and detention basins. He also developed the initial early spreadsheets for the analysis of open channels, detention basin and culverts.

To foster technology transfer, Dr. Guo conducted much needed continuing education and training of professionals in our field. He also collaborated with the District in analysis of long term rainfall and runoff records that led to the development of cost effective and technically defensible sizing of the water quality capture volume, a leading work in the world and not only in Colorado. This work was peer reviewed and published in technical journals in the United States and internationally.
For all of the above-mentioned contributions Dr. Guo received little or no compensation from the District or others.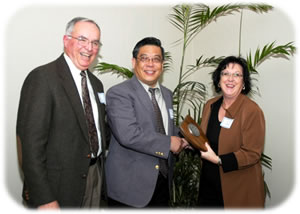 Dr. Guo receives a plaque and congratulations from District Board Chair and Broomfield Mayor Karen Stuart as Dave Lloyd looks on.