Maintenance Program
Mark Hunter, PE, Program Manager
The Urban Drainage and Flood Control District Maintenance Program budgeted a total of $7.4 million in 2007 to maintaining publicly-held drainageways in the Denver metropolitan area. Our maintenance work covers the spectrum of drainageway work. It includes debris pick-up and mowing, localized repair to damaged and eroded channels or detention facilities, and consultant-designed reconstruction of long reaches of deteriorated drainageways.
Most of our work involves publicly-owned open channel drainageways that have been improved in the past as part of a capital improvement project or a subdivision development. These open channels typically have native-grass-lined banks, riprap or vegetative erosion protection, and rock or concrete grade control structures.
Mowing and Debris Pick-up
For the year 2007 we awarded eight contracts for debris pickups and native-grass mowing under our routine maintenance program. Six of those contracts were awarded as renewals of the prior year contract. The value of each of these renewed contracts was adjusted to match the change in the regional Consumer Price Index over the prior year. The remaining two contracts were awarded through a competitive bid process in March.
Mowing and debris pick-up work was done on 294 different sections of urban native-grass-lined drainageways within the District's boundaries. The contractual value of the work through October of the year was $825,370. The table below summarizes the miles of drainageways within each county in the District on which we performed regularly scheduled mowing and/or debris pickup maintenance.
Construction Activities
Through October of 2007, $4.8 million of maintenance work has been performed under our various construction contracts. For that group of localized drainage repairs where the estimate of construction cost is less than $400,000 the smaller activities are directly awarded to individual contractors while the larger projects are bid among our group of eleven private "Drainageway Contractors" who have qualified for open-ended contracts with the District. A major advantage of work under the open-ended contracts is the ability to use them to react quickly to local drainage needs.
When project construction will cost more than $400,000 the work is designed by a private consultant and then put out for public bid to be built by a private contractor. These larger projects typically address severe problems that have occurred on previously improved urban drainageways. Through the first 10 months of the year 114 individual activities have been completed, are under contract, or are being designed. Our major projects for the year are summarized in the accompanying table titled "Status of Major Maintenance Projects for 2007."
Channel Repairs
Southeast of Orchard Road and Monaco Way construction is underway on Greenwood Gulch to stop the vertical and lateral erosion. The project includes low flow drop structures to reduce the erosive power of the creek by reducing the longitudinal gradient of the channel. The neighborhood and vegetation are mature so the drainageway corridor is confined. As a result there was no room to build 100-year capacity drop structures.
High water on Massey Draw in 2004 caused flooding damage near Kipling Street. It also caused erosion damage to an unimproved portion of the channel near Wadsworth Boulevard well downstream of the area that experienced the flooding conditions. In between the two damaged areas the channel had been improved in the past and therefore received little damage. We have now repaired the downstream erosion damage using boulders for bank protection and drop structures to reduce the creek gradient.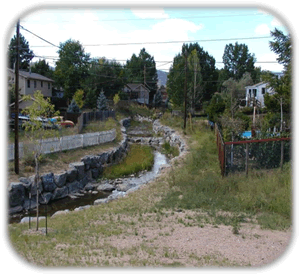 This view of Massey Draw shows the tight corridor in which the boulder walls and drop structures were built
In last year's Flood Hazard News we detailed the succession of construction and erosion that has occurred on Goldsmith Gulch between Iliff Avenue and Yale Avenue over the last 25 years. The longitudinal grade appears to be flat enough, yet the stream has been prone to flash flooding with resulting erosion and formation of secondary channels. The recently completed rehabilitation provided a low flow channel that was reinforced for its full width with boulders or riprap. Overbank erosion protection along this narrow corridor was established through the use of rolled erosion control materials and natural vegetation. The parallel regional trail was also rebuilt.
Multi-purpose Projects
We continue to cooperate with local governments to fund multi-purpose projects.  Since drainageways and parks often share the same corridor the repair of damage can be a combined effort.  Grange Hall Creek in Thornton, Northglenn, and Adams County has received much attention over the years.  Thornton is enhancing its recreation center northwest of 108th Avenue and Colorado Boulevard and we are coordinating with them to add needed drop structures to the creek. 
| | |
| --- | --- |
| | |
| Goldsmith Gulch before | Goldsmith Gulch after |
Status of Major Maintenance Projects for 2007

Project

Jurisdiction

Cost

Status

ADAMS COUNTY

Big Dry Ck, Cozy Crnr Trib – 116th Av. &
Sheridan.  Repair channel and pond

Westminster
partic.w/ Westy

Design

local gov

100%

Const

next year

0%

Grange Hall Creek – NW.of Colo. Blvd & 108th.  Drops and channel work at Rec ctr.

Thornton
partic. w/ Thornton

Design

local gov

100%

Const

next year

0%

Line B – S. Platte River to Southern St.
Build drop, remove substantial sediment

Brighton
partic.w/ Brighton

Design

31,385

100%

Const

35,594

100%

Little Dry Creek – West of Federal Blvd.
Utility work and channel regrading

Westminster
partic.w/ Westy

Design

58,585

100%

Const

276,973

100%

ARAPAHOE COUNTY

Greenwood Gulch – E.of Monaco/Orchard
Build drop structures and repair erosion

Centennial

Design

50,000

100%

Const

299,120

50%

Lee Gulch – E .of Prince at Hill St. ext.
Local channel repair and regrading.

Littleton

Design

26,531

100%

Const

36,786

100%

Little Dry Creek – East of Colorado Blvd.
Local small drops and channel repair

Centennial

Design

75,592

100%

Const

263,016

100%

Westerly Creek – S.of Kentucky Ave.
Ongoing repair of drop structures

Aurora

Design

26,707

100%

Const

100,000

70%

Windmill Creek – SW of Bronco Parkway
Study of preventive maintenance

Arapahoe County

Design

39,181

100%

Const

40,000

50%

BOULDER COUNTY

Boulder Crk – NW of Hwy 287 & Jasper
Repairs to 1999 realignment project

Boulder County

Design

6,000

100%

Const

34,345

100%

Coal Creek – Bldr. Crk. S.to Kenosha Rd
Rebuild large drops and do erosion repair

Boulder County

Design

35,790

100%

Const

next year

0%

Coal Creek – S. Public Rd to W. of 287.
Install small drops and repair erosion

Lafayette

Design

47,621

60%

Const

next year

0%

Fourmile Cnyn Crk – E.of 28th  to E.of 30th
Repair small drops and channel erosion

Boulder

Design

28,910

50%

Const

next year

0%

BROOMFIELD COUNTY

City Park D'way – W. of 287 to Burbank
Utility conflict and repair local erosion

Broomfield

Design

24,325

70%

Const

next year

0%

DENVER COUNTY

Cherry Creek – University south of 1st Av.
Rebuild drop #1 and improve trail

Denver
partic. w/ Denver

Design

100,465

100%

Const

next year

0%

Cherry Creek – U/s Havana & Hampden.
Rebuild large drop structure #27

Denver
partic. w/ Denver

Design

69,030

80%

Const

next year

0%

Goldsmith Gulch – Iliff to Yale at Monaco
Repair narrow channel and trail

Denver

Design

95,207

100%

Const

528,724

100%

Irondale Gulch – Andrews Dr. at Tulsa Ct
On-going rebuild of concrete channels

Denver

Design

previous

100%

Const

315,425

100%

Irondale G, Tower Outfall – SE of 56th & Chambers.  Maint.access at Parkfield Lake

Denver
partic. w/ Denver

Design

local gov

100%

Const

361,221

100%

West Harvard Gulch – Platte R to Railroad
Drops, channel repair, and trails

Denver
partic. w/ Denver

Design

200,817

95%

Const

next year

0%

DOUGLAS COUNTY

East Dad Clark G – N. of Venneford Rd
Bank protection and erosion repair

Douglas County
part. w/Cap.& H.R.

Design

32,150

100%

Const

281,455

80%

Marcy Gulch – S. of Town Center Drive
Add drop structures and bank protection

Douglas County

Design

89,372

100%

Const

419,669

100%

JEFFERSON COUNTY

Kenney's Run – Along Johnson Road
Repair small drops and regrade banks

Golden
partic. w/ Golden

Design

81,200

75%

Const

next year

0%

Lakewood Gulch – W.of Dudley at 8th Ave
Drops and repair channel

Lakewood


Design

59,610

60%

Const

next year

0%

Massey Draw – NW Wadsworth & C470
Drops and channel repair

Jefferson County

Design

86,557

100%

Const

435,911

100%

Ralston Creek – Taft St. to Urban St.
Repair channel and utility crossings

Arvada
partic. w/ Arvada

Design

20,000

50%

Const

next year

0%

SJCD South – Kendall to East of Pierce
Repair old project and eroded channel

Jefferson County

Design

65,000

90%

Const

next year

0%

SJCD South – SW of Carr St & Ken Caryl
Repair eroded channel

Jefferson County

Design

43,595

80%

Const

next year

0%
The linear corridors provided by drainageways are ideal avenues for neighborhood parks and trails.  East of Ward Road in Arvada Ralston Creek slices through a park where erosion by the creek has exposed utilities and threatened the trail.  Our design is underway to regain the natural banks and meanders of the creek and to protect the utilities and trail.
A patch of indigenous prairie grasses and shrubs adjoins the proposed channel and trail work on West Harvard Gulch west of the South Platte River near the Yale Avenue alignment.  While we have been slowly moving forward with the right-of-way acquisition and final funding arrangements we have been able to protect the legacy vegetation area from the churning wheels of dirt-bikes.  The proposed project will restore and protect the currently entrenched channel and will provide a highly desirable trail link to the South Platte River corridor for the neighborhoods to the west.
A major purpose of drainageway maintenance is to reduce large unexpected expenditures in the future by taking care of small problems while they are still small.  Toward that goal we have developed some simple low cost erosion control techniques with the intent of controlling erosion in the short-term so thorough study and design can be completed for long-term regional solutions.  These ideas are being tried on Windmill Creek northeast of Centennial Airport.  We will report on this effort in the future.
Detention Ponds and Sediment Control
The City of Brighton has relatively flat topography, but as urbanization occurs sediment is still generated and carried by South Urban Channel (Line B).  At its confluence with the South Platte River the grade is even flatter and the sediment is deposited.  Recent sediment removal and channel regrading has established a more efficient low flow channel to carry the material.  The nearby trail, which was often under water and mud, was also improved to make it a more all-weather corridor.

Our successful sediment removal and vegetation thinning last year on a flat reach of Coal Creek near Centaur Village in Lafayette has expanded downstream.  The additional work involves more removal of excess material, but will also include the installation of three or four grade control structures to manage lateral erosion.
Since the completion in the late 1990s of the sediment trap on Willow Creek south of Dry Creek Road in Centennial we have removed about 1000 cubic yards of material at least once each year.  We realize the sediment capture volume for this facility is undersized for the basin, yet it is capturing the large grained material which would otherwise be deposited under the nearby Dry Creek Road Bridge or in the flood pool behind Englewood Dam.

Grade Control
The design is nearly complete for the rehabilitation of the 18-foot tall drop structure on Cherry Creek upstream of Hampden Avenue and Havana Street.  The design has beenexpanded to include recent downstream erosion that is migrating toward the structure.  The new drop structure will accommodate the deeper downstream channel as well as the design discharge from Cherry Creek Reservoir.
Seven miles downstream from the above drop structure is another high priority structure on
Cherry Creek
that is being rebuilt.  Immediately west of University Boulevard is an old 4-foot tall timber and steel H-pile drop structure.  It is being rebuilt as a sheet pile and grouted boulder facility.  The work includes re-setting the Cherry Creek trail under University to accommodate a 90-degree bend in the alignment.  The design phase, including easement acquisition by Denver, is done and construction is planned in 2008.
| | |
| --- | --- |
| | |
| South Urban Channel before | South Urban Channel after |
Open channel drainageways are sometimes in the form of a concrete-lined trough in order to narrow the footprint of the facility.  Through some public areas south of Kentucky Avenue in Aurora
Westerly Creek
is held in a concrete-lined channel.  We have coordinated with Aurora over the last few years in the difficult reconstruction of four drop structures in this channel.  Each drop is a cast-in-place concrete foundation and wall with the wall extending well below the grade of the concrete channel.