Maintenance Eligibility Program
David Mallory, PE, Senior Project Engineer, Floodplain Management Program
An Anniversary
This year marks the end of my first ten years at the District. My tenure here has been immensely rewarding and challenging. The District is a superb organization with a talented and dedicated staff. I have also enjoyed the interaction and project collaboration with local, state and federal officials, developers, consultants, and contractors. I am particularly indebted to Bill DeGroot for the opportunity and wise guidance in administering the District's Maintenance Eligibility Program. He is a gifted floodplain manager, and a great colleague.
Construction Plan Reviews
The effects of the national mortgage crisis have become manifest in the Denver metropolitan market in several ways. We noticed a reduction in development submittals through the year, down by approximately one half over past years. We typically receive between 200 to 250 construction plan submittals each year from communities within the District. This last year we logged in 125 construction plan reviews However, development remains robust in the southeastern Aurora, northern Douglas County, and the northern I-25 corridor areas for both commercial and residential projects. Terri Fead, PE, CFM continues to provide us with effective support in completing these reviews. She has also been very effective in the LOMC pilot project, DFIRM conversions, and FHAD reviews. I'm happy to announce that she will be part of the maintenance eligibility program again next year.

In the Field
We have not, however, seen a reduction in construction activities. So, the most exciting development in our field operations this year was the addition of Joanna Czarnecka to our staff. Joanna interned with the District while attending school. She has now returned on a part-time basis to take charge of the construction observation activities we perform as part of the District's Maintenance Eligibility Program. In last year's article I discussed the cooperative effort with Douglas County to "catch up" legacy projects (pc for old and forgotten projects). Joanna has completed that effort with Brian Schultz of Douglas County. Arapahoe County, through SEMSWA has indicated a desire to do the same program for their legacy projects. We encourage other communities to review project status (posted weekly on our web site) and request reviews of legacy projects.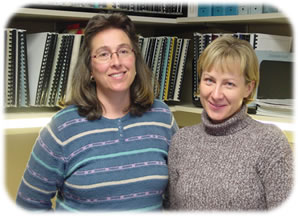 Terri Fead (l) and Joanna Czarnecka provide valuable part-time help for the Floodplain Management Program.
The additional staff time available for construction site visits has afforded us the ability to be more proactive. In the past we have relied exclusively on others to keep us abreast of construction activities. We can now provide enhanced coverage for construction projects.
In summary, we completed final certificates for over 150 projects for inclusion in the Maintenance Eligibility program in 2007.
How NAI Principals Guided Us through a Difficult CLOMR Review
NAI, or No Adverse Impact in floodplain management is a program promoted by ASFPM. The goal of NAI is to ensure that the actions of one property owner do not adversely affect the rights of other property owners in terms of increased flood risk and loss of development potential.

When a large retail developer submitted a request for a Conditional Letter of Map Revision (CLOMR) that proposed a significant floodway encroachment at arguably the highest flood risk area in the Denver Metropolitan Area, we were alarmed. Cherry Creek at Arapahoe Road has a 100-year peak discharge of nearly 50,000 cfs, the highest in the District. Arapahoe Road is a state highway with an inadequate bridge waterway opening, resulting in significant roadway overtopping. The development project proposed floodway encroachments in one community, while the adverse impacts would occur in adjacent communities. Our initial assessment was that this proposal should be denied. We entered into a unique review arrangement with Michael Baker Jr. (FEMA's National Service Provider) and ICON Engineering (our review consultant) to work through the denial process. Our legal counsel also recommended denial based on Colorado common law.

Midway through the review process several individuals working on the review attended an NAI Workshop sponsored by CASFM. As a result, we were able to formulate a way forward using NAI principals. We recommended to the development team a strategy that would significantly reduce adverse impacts to properties in adjacent communities, reduce the floodway encroachment, and gain support from all communities affected by the project. Faced with the prospect of denial, and a reasonable alternative, the developer entered into a constructive dialogue with the review team. The developer was tasked with securing approvals from each adversely impacted property owner as a condition of adjacent community acknowledgement. All parties were eventually satisfied with the revised proposal and a CLOMR was issued.
The project was concurrently reviewed for inclusion in the District's Maintenance Eligibility Program. A secondary benefit was the preservation of natural floodplain functions through a commonsense geomorphic-based approach to drainageway modification.
In the end, the project was significantly revised in order to render a smaller adverse impact, the project gained the support of adjacent communities, and natural and beneficial floodplain functions were preserved. More importantly, we set a precedent for enhanced floodplain management using NAI principals that go beyond NFIP minimum standards.
Marketing Brochure Update
As reported last year, we have been working with many communities throughout the District to develop a "marketing brochure" for the development team to receive from the community early in the planning process. The brochure will advocate the concept of floodplain preservation. We believe there is a universal benefit in preserving natural floodplain functions. Channelizing major drainageways produces single purpose projects, namely flood conveyance, and contributes to the decline of stream corridors. We believe the first choice should be multi-function preservation and restoration projects that enhance natural stream corridor function. The multi-function approach works well with regional trail and open space goals, outdoor recreation, environmental preservation and of course flood control. Stream channelization should always be a second choice, and when necessary (to repair degraded streams for example) should replicate natural stream systems. Through thoughtful consideration early in the process, the developer can approach floodplains as amenities and position the project for maintenance eligibility from the District and 404 permit approvals from the ACOE.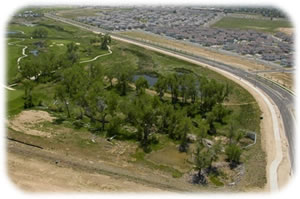 Green Valley Ranch Golf Course and detention pond in Denver
In addition to completing community surveys, we identified a number of past projects that exemplified good floodplain preservation principals. These projects were photographed during the spring and summer using helicopter based aerial photography. I volunteered for the photo missions, completing 5 flights between May and October. For someone who avoids heights, the doors-off, low level helicopter flights were a real white-knuckle adventure! However, the images are remarkably good and deliver a high impact. We collected nearly 2000 images of over 40 projects, including a number of District sponsored projects. The District project images were used in a presentation to our Board of Directors in the first annual "Virtual Bus Tour". The images presented here give a taste of the photo record. The brochure and enclosed CD will include a full suite of images to showcase projects we feel exhibit floodplain preservation. We will also post example projects on our website. Look for the completed project early next year. In the meantime be good and stay out of the floodplain.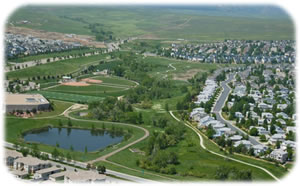 The Rock Creek floodplain as it passes through the Rock Creek Ranch development in Superior. The open area at the top of the photo is Boulder County open space.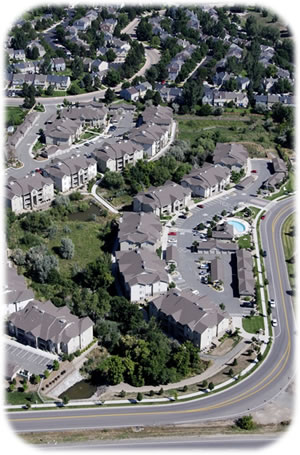 On a smaller scale, this developer stayed out of the floodplain, preserving trees, wetlands and a small stock pond.