South Platte River Program
Bryan Kohlenberg, P.E., Senior Project Engineer
The South Platte River section within the Design, Construction and Maintenance Program, consists of a senior project engineer, a construction manager, and a student intern assigned to the 41 miles of the South Platte River from Chatfield Reservoir downstream to the Adams/Weld County line at 168th Avenue.
For over 20 years we have worked with cities, counties, special districts, utility owners, and property owners along the South Platte River to help preserve the corridor, improve conditions and habitat of the river, and assist with the maintenance of this valuable natural resource within the Denver Metropolitan area. In 2007 we participated in the following:
SPR Capital Projects
Globeville Project
The final construction phase of Denver's Globeville channelization project continues along the South Platte River at Franklin Street. The project includes a new water diversion structure for the Burlington canal, new trail improvements under Franklin Street, a new pedestrian bridge across the river, and a new grade control with boat chute/fish ladder. This project will remove approximately 200 acres of highly urbanized lands in north Denver from the 100-year floodplain. Construction is expected to be complete in the spring of 2008. Also, see the article earlier in this issue regarding this project.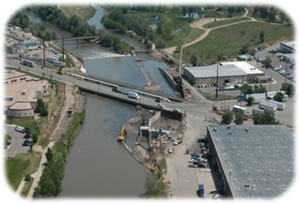 Channel Construction in Globeville at Franklin Street
Zuni/Sun Valley Reach Project
This year Edge Construction was awarded the first phase of channel utility relocations adjacent to Xcel's Zuni power plant just downstream of 13th Avenue. A large electrical distribution duct is being lowered and a shallow depth 115kV transmission line is being protected with concrete encasement in order to allow for the Zuni/Sun Valley channel lowering/widening project between 8th Avenue and Lower Colfax Avenue.
This phase also includes demolition of the old elevated concrete trail along the west bank. A temporary asphalt trail will be provided through this reach. Ultimately a new trail underpass will be constructed at 13th Avenue. At a cost of over $850,000 this first phase of the Zuni/Sun Valley reach project should be completed by April 2008.
The design team, including the District, City and County of Denver, Matrix Design Group, and Xcel Energy continue to actively pursue project real estate, additional utility relocation needs, and funding (approx. $30M) for the Zuni/Sun Valley reach of the South Platte River.
SPR Maintenance Activities
Routine Maintenance
In 2007, South Platte River routine maintenance efforts included:
244 river miles (equivalent) of trash and debris pickup and removal

3.3 acres of string-trim mowing at access ramps and rest areas

74 miles (equivalent) of recreation/maintenance trail edge mowing

2.6 miles (equivalent) of tree pruning and trimming along the trail

Clearing of excess vegetation from the river channel

Removal of dead, non-native and invasive trees, such as Tamarisk (a.k.a. salt cedar), Russian Olive, and Chinese/Siberian Elms

Planting of various native trees, shrubs and native dry land grasses to provide erosion control and wildlife habitat

Helping control many varieties of invasive weeds such as Purple Loosestrife, Thistle, and Knapweed

Participation in annual NIMBY ("Not In My Backyard") FEST volunteer trash cleanup event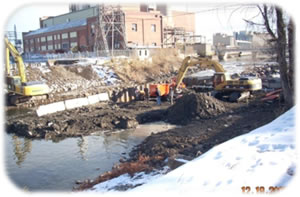 Zuni/Sun Valley Reach - Utility Work Downstream of 13th Avenue
This year over $300,000 was spent to perform these services along the 41 miles of the river. Colorado Total Maintenance (CTM), Inc. was once again selected to perform these services.
Restoration Maintenance
In 2007, the following restoration maintenance projects were completed:
Emergency repair of severely eroded east bank near 124th Avenue in Adams County during high spring runoff. Completed additional bank restoration/stabilization project along west riverbank at the new Elaine Valente Open Space just north of 104th Avenue in Adams County.

Restored eroded east bank adjacent to Erger's Pond sand and gravel mine near 155th Avenue extended.

Repaired failing outfall structure at Little's Creek confluence with the river.

Participated in design of replacement wall for 650 feet of badly deteriorated wooden retaining wall along South Platte River Drive downstream of Mississippi Avenue in Denver.

Replaced severely cracked or heaved concrete recreation/maintenance trail sections in Denver.

Repair of habitat rock weir structure within South Platte Park in Littleton.

Several restorative maintenance projects that are planned for construction next year include:
Repair of several riverbank stabilization and wildlife habitat structures within South Platte Park in Littleton. Repair or replace badly deteriorated wooden retaining walls and wooden bridges along the South Platte River trail within Denver.

Construction of at least two bank stabilization/restoration projects adjacent to existing sand and gravel mines in Adams County.
SPR Cooperative Projects Cooperative projects are constructed on flowage and maintenance access easements dedicated to the District by private property owners adjacent to the river in exchange for river restoration work. The District can participate financially up to 75 percent of the total project cost. To date over 740 acres of such easements have been dedicated, resulting in over 36 bank stabilization and/or river grade control and riparian revegetation projects since 1987.
One new cooperative project was completed and two new projects were begun this year:
Worthing Pit Coop – Left Hand Excavating completed over 1000 feet of east riverbank restoration/stabilization on property owned by Henderson Aggregates Inc. (Albert Frei and Sons) south of 132nd Avenue extended.

Hazeltine Reservoir Coop – Naranjo Civil Constructors started construction of 800 feet of east riverbank restoration/stabilization adjacent to a sand and gravel mine just north of 104th Avenue on property owned by Aggregate Industries.
Brighton Mine Coop – Kemp and Hoffman, Inc. started construction of west riverbank restoration/stabilization adjacent to a sand and gravel mine north of E-470 on property owned by Aggregate Industries.
| | |
| --- | --- |
| | |
| Worthing Pit Coop - During Construction | Worthing Pit Coop - After Construction |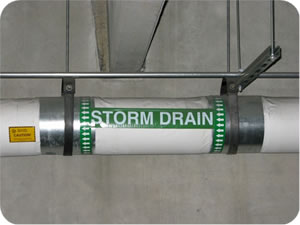 This is called "Filler"