Completing a Vital Link in the Regional System
With the forming and pouring of a very difficult section of pathway and retaining wall one of the most challenging segments of the Big Dry Creek Trail is now complete. This reach, extending from roadway in Englewood to East Powers Avenue in Littleton, includes a 12'-wide concrete path, a retaining wall system to hold back steep unstable slopes, carefully placed boulders to prevent erosion, removal of unsightly concrete rubble and channel clean-up. The project also includes significant revegetation work consisting of carefully selected riparian tree and ground cover species. With the placement of this section of pathway, the Big Dry Creek Trail is now almost continuous from the Mary Carter Greenway (South Platte River) to Greenwood Village to access the High Line Canal Trail.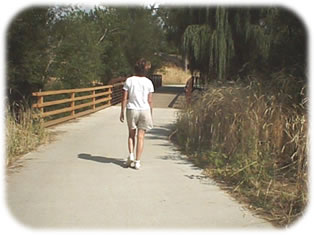 Big Dry Creek Trail near South Santa Fe Drive
The 2008 effort will focus on closing the last shortgap—less than ¼-mile from Lehow Street to Broadway. Once completed the Big Dry Creek Trail will form part of a new 14-mile loop that includes the High Line Trail, the Lee Gulch Trail and the Mary Carter Trail. It will both serve the South Metro area and form an integral part of the larger 600+mile Metro Denver trails network with direct connections to Englewood, Littleton, Cherry Hills Village, Greenwood Village, Denver, Highlands Ranch, and Centennial.
A Multi-Objective Approach and Partnership
The Big Dry Creek effort represents a multiobjective
approach to reclaiming a longneglected urban stream corridor. Through a partnership of several
South Metro cities, Arapahoe County, the South Suburban Parks andRecreation District, Urban Drainage and Flood Control District, the State Parks GOCO Trails program and the federal Transportation Enhancements program, the corridor is undergoing a dramatic transformation. A number of private donors also played a key role including property owners who contributed land for right-of-way.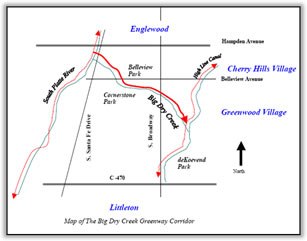 The goals of the project are multi-faceted. The vision reflects a master plan authored jointly by Littleton, Englewood and the South Suburban Parks and Recreation District and a stormwater and erosion control plan prepared by the Urban Drainage and Flood Control District. The effort envisions creek corridor clean up and stabilization, habitat renovation, access to parks as well as wetland and riparian forest enhancements. A continuous paved shared-use hike/bike path will run the length of the 3.5 mile corridor providing access for recreation, bicycle commuting and stream channel and floodway maintenance.
A Striking Transformation
The transformation of a once-neglected segment of Big Dry Creek is striking. What was once a "jungle" of invasive plants, debris and steep slopes is now taking on a naturalpark-like character that will also be friendly to wildlife. With funding from Arapahoe County, South Suburban Parks and Recreation, Urban Drainage and others, the plan is to raise additional matching dollars and complete the last key link of the trail from Broadway to Progress Park (at Lehow Street) this coming year. Longer term, the plan is to promote the continued clean-up and rehabilitation of this important reach of urban riparian environment.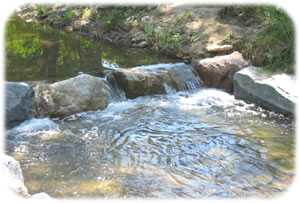 Rock Drop Structure near Broadway

Running through a variety of settings that include industrial areas, parks, multi-family and single family residential areas, the Big Dry Creek project offers both challenges and opportunities. It has been referred to as a "backyard" greenway because much of the corridor is tightly confined by existing development. While narrow in many places the Big Dry Creek channel also includes open oxbows and meanders that offer great potential to enhance urban wildlife habitat with wetlands and forest cover.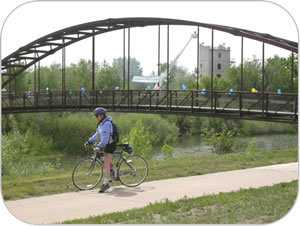 Big Dry Creek Trail Bridge at the Confluence with the South Platte River
Urban Drainage Also a Vital Conservation Partner
In addition to supporting the trail work, in two particular instances, Urban Drainage and Flood Control District has been a vital partner in these conservation efforts. One project involved the acquisition of a property adjacent to Prospect Park near South Broadway and Belleview. Along with constructing the trail, the work involved removal of fill that had been dumped in the creek channel over the years, and re-grading and creating an area where a healthier cottonwood/willow forest can thrive. With technical advice and funding from Urban Drainage this area is now returning to a more natural state while still meeting flood conveyance and erosion control objectives. Nearby, the District is helping with acquisition of an oxbow area where floodprone lands are being acquired and the stream is allowed to meander. This forested area will remain home to heron, fox, beaver, deer and other inhabitants.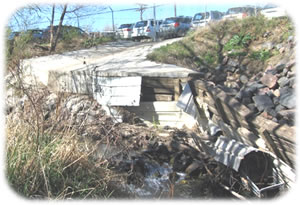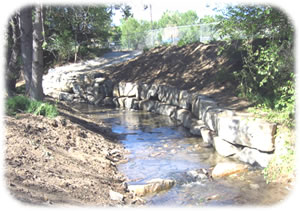 Before and after at Burt Automotive Group
Urban Drainage has also helped with other important stream upgrades and improvements including working cooperatively with Burt Automotive Group to replace a very unsightly drainage structure with a more natural appearing rock outfall and stabilization system, and providing rock rip-rap to replace dumped concrete debris at a number of streamside locations. The District also helped with the creation of new rock drop structures providing erosion control in the channel that prevents down cutting using carefully placed boulders. The rocks create an attractive waterfall effect and helps improve aquatic habitat by aerated the water and providing pools for small fish. The fish in turn provide a food source for Heron, Duck and other riparian species. Another interesting element is the span constructed over a meander in the creek near Progress Park. A unique "canopy walk" passes over the dense vegetation rather than cutting through sensitive stream habitat. The deck affords a tree-branch-level perspective of the creek corridor adding interest to the trail experience that helps protect the resources below. Recently, Senator Ken Salazar joined hundreds of trail enthusiasts in cutting the ribbon on this completed segment and unique aspect of the Big Dry Creek Trail.

This year Urban Drainage has also been working with the other public and private sector partners to explore the utilization of excavated soil from another drainage project to cover barren rock slopes along the Big Dry Trail and allow new trees, shrubs and grasses to grow along the stream bank. Indeed, any time it was needed the advice and support of the Urban Drainage staff was there to help out in a true spirit of partnership and multi-objective greenway planning.
Challenges and Lessons Learned
The Big Dry Creek Greenway has been one of the more challenging projects in the creation of the Metro-wide greenway system. A tightly confined corridor, utility and railroad crossings, right of way acquisition and costs for bridges, retaining walls and other structures all contributed to the difficulty. Partnership-building and a strong inter-disciplinary team of planners, engineers, and ecologists helped solve the problems. The project development team also left no stone unturned in raising money. For example, a substantial grant was secured from the Federal Transportation Enhancement program by fast-tracking a project that many thought was not feasible to win the dollars.

Right-of-way for the trail and related improvements was the other big challenge. Fortunately much of the right-of-way was made possible by generous donations from forward looking and public-spirited land owners including Carmel Properties and the late Kal Zeff, and the Silvercliffe Apartments and their owners. Individual owners and Xcel Energy and Southgate Water and Sanitation District also granted rights of way. Other owners were not supportive of the project concept and long negotiations have been required. Ultimately, though, all of the right-of-way will be secured and the project completed.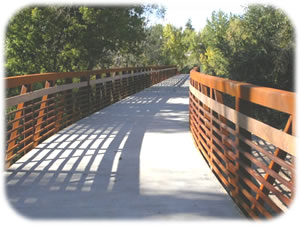 Canopy Walk near Lehow Street
One key has been the appropriate combination of patience and persistence to get the job done. Part of the pathway to success was to build workable, usable segments of the trail that could stand on their own skirting around the challenging properties and to have contingency plans and alternative strategies to make vital trail connections. Taking this somewhat daring but carefully thought out approach rather than waiting to secure all of the right-of-way before building helped assure the success of the project. Now on the home stretch the project partners look forward to the completion of the final key link this winter and to cutting the ribbon on this important new trail and greenway this coming spring. We gratefully acknowledge the support of our many contributors and partners, the participating agency staff, the efforts of the South Suburban Park Foundation Board as well as our talented design and construction team! We also encourage you to get out on the trail and enjoy this exciting new greenway amenity!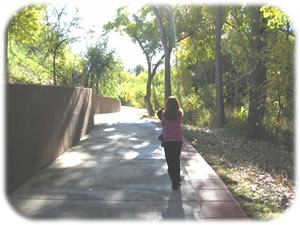 The finished trail near Broadway
Robert Searns and his firm, The Greenway Team, Inc. serve as Project Development Consultant to the South Suburban Park Foundation, Inc. He is also Chairman of American Trails, a trails information and advocacy organization serving communities and trails enthusiasts across the U.S. and Canada (www.americantrails.org).