Maintenance Eligibility Program Notes
By David Mallory, P.E., Senior Project Engineer, Floodplain Management Program

---
Construction Plan Reviews
A large number of construction plans were submitted for review through the maintenance eligibility program again this year. Southeastern Aurora, northern Douglas County, and the northern I-25 corridor have attracted the largest development interest for both commercial and residential projects. We typically receive between 250 to 300 construction plan submittals each year from communities within the District. Terri Fead, PE, CFM continues to provide us with effective support in completing these reviews. She also assists in the LOMC pilot and DFIRM conversion projects. I'm happy to announce that she will be part of the maintenance eligibility program again next year. We updated the Guidelines for Maintenance Eligibility of Flood Control Facilities Constructed by Others in March of this year. The guidelines and project eligibility status by community are available online.
Floodplain Preservation
For many years, the District has advocated the concept of floodplain preservation. We believe there is a universal benefit in preserving natural floodplain functions. Channelizing major drainageways produces single purpose projects, namely flood conveyance, and contributes to the decline of stream corridors. We believe the first choice should be multi-function preservation and restoration projects that enhance stream corridor function. The muli-function approach works well with regional trail and open space goals, outdoor recreation, environmental preservation and of course flood control. Stream channelization should always be a second choice, and when necessary should replicate natural stream systems, meaning land dedication, ecology and surface treatment receive careful consideration. It is the District's desire to reach the development community early in the referral process with this message and foster a productive working coalition that includes the developer, community staff, Army Corps of Engineers (ACOE) and the District. We have been working with many communities throughout the District in recent months to develop a "marketing brochure" for the development team to receive from the community at the beginning of the planning approval process. The brochure will go beyond the Urban Storm Drainage Criteria Manual to promote better concepts relative to development adjacent to floodplains. Through thoughtful consideration earlier in the process, the developer can approach floodplains as amenities and position the project for maintenance eligibility from the District and 404 permit approval from the ACOE. Michelle Leach with Prospectiva has been assisting the District with this initiative. We will provide a project update at the District's annual conference in February.

In last year's article, I reported that we are coordinating our maintenance eligibility reviews with the ACOE's 404permit review process with very positive results. We have continued to build on that relationship with the ACOE throughout this year. In June, the ACOE issued a policy directive regarding development projects in floodplains. The ACOE is now considering avoidance of impacts to floodplains as part of its alternatives analysis for activities involving a discharge of fill into jurisdictional waters of the U.S. For projects where filling of an exiting 100-year floodplain is proposed in order to increase developable land, the ACOE has counseled caution. The directive caused quite a stir from local governments and the development community. The District hosted a round table discussion to provide an exchange of ideas and get a better understanding from the ACOE regarding floodplain preservation. One detail that was not lost on the development community was the ACOE's interest in floodplain preservation is only applicable to projects that require a 404 permit. Consequently, one recent trend is avoidance of the 404 permit process altogether with the idea that necessary stream stabilization projects can be permitted later by the public sector after the developer has completed his or her project, including floodplain encroachment. The ACOE has indicated this approach may well lead to an enforcement action. We support a resource driven approach that treats the major drainageway as an asset to enhance rather than a problem to avoid or cover up. We encourage project proponents to make land use decisions that respond to the stream corridor, work with communities, the District and the ACOE to develop projects that address all stakeholder issues. For projects that implement District master plans and represent sound floodplain management, it may be appropriate for local government and the District to join the application as co-sponsors. The 404 permit application will be much stronger with such an approach and much more likely to succeed. I believe some floodplain encroachment is possible provided proposals reflect avoidance / minimization / mitigation of impacts to waters of the U.S. and preserve the floodway and beneficial floodplain function. ERO Resources have an informative posting on their web site at www.eroresources.com . Obviously this is an issue we will follow throughout the next year as we work with the ACOE.
In the Field
A number of projects "drop off the radar screen" for a variety of reasons somewhere between the concept approval and construction acceptance. The maintenance eligibility program has always offered a means to conduct after-the-fact reviews and acceptance for projects that meet District design criteria. Early this year, Douglas County decided to catch up on old projects in Highlands Ranch. Turns out there were scores of projects that never received design approval and/or construction acceptance. In May, Brian Schultz with Douglas County inspections and I started going through the list.
Douglas County inspector Brian Schultz on the hunt for forgotten drainage projects in Highlands Ranch.
We spent an average of two days a month doing field inspections of these old projects. Many sites had not been touched in 10 to 15 years. Brian researched old projects, dug up as-built plans, and previewed the sites ahead of my visit. It's amazing how much vegetation is supported with a little water over several years. A number of storm sewer outfalls were really tough to find after all these years and all that growth. We were able to close out nearly 90 old projects with this initiative. I really appreciate Douglas County's efforts in closing these old projects. The next question is how do we find these sites again in the future when its time to perform maintenance? Douglas County will initiate a GIS location project next year. We are talking to them about importing that information into our GIS system in order to facilitate future maintenance efforts.
One interesting discovery was the condition of Dad Clark Gulch East Tributary between Summit View Parkway and Wildcat Reserve Parkway.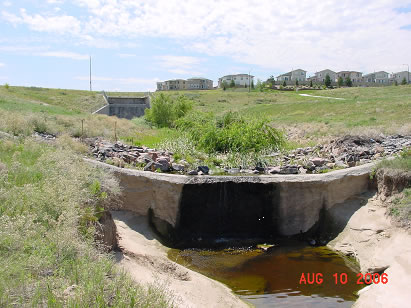 Grade control structure located downstream of the Wildcat Reserve Parkway crossing culvert and impact basin. The degradation at structure face is 7 feet with another 3 feet in the plunge pool.

Planned grade control structures between Pond 5 at Summit View Parkway and the outlet treatment at Wildcat Reserve Parkway were deferred until a later date. The stream reach experienced severe erosion resulting in several feet of scour into bedrock and heavy deposition in the pond. The accompanying pictures show the grade control structure installed with the Wildcat Reserve Parkway project.

Notice stable channel between the culvert impact basin and grade control structure. The downstream condition is quite different. Imagine what the impact basin would look like without the grade control structure. The message is clear; grade control structures protect stream systems.
That's all for this year. Be good and stay out of the floodplain.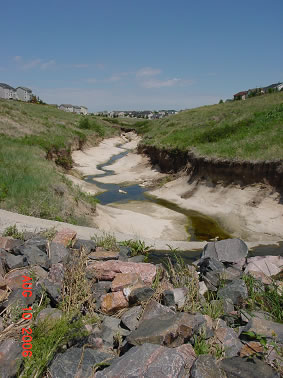 Looking downstream over the grade control structure. Notice the severe erosion, 4 to 6 feet into bedrock.