Maintenance Program Activities
By Mark R. Hunter, P.E., Manager, Maintenance Program

---
The Urban Drainage and Flood Control District (District) Maintenance Program budgeted a total of $6.8 million in 2006 to maintaining publicly-held drainageways in the Denver metropolitan area. Our maintenance work covers the spectrum of drainageway work. It includes debris pick-up and mowing, localized repair to damaged and eroded channels or detention facilities, and consultant-designed reconstruction of long reaches of deteriorated drainageways.
Most of the drainageways we maintain have been improved in the past as part of a subdivision development or a capital improvement project. They are typically open channels with native-grass-lined banks, riprap or vegetative erosion protection, and rock or concrete grade control structures.
Mowing and Debris Pick-up
For the year 2006 we awarded eight contracts for debris pickups and native-grass mowing under our routine maintenance program. Three of those contracts were awarded as renewals of the prior year contract. The value of each of these renewed contracts was adjusted to match the change in the regional Consumer Price Index over the prior year. The other five contracts were awarded through a competitive bid process in March.
Mowing and debris pick-up work was done on 275 different sections of urban native-grass-lined drainageways within the District's boundaries. The contractual value of the work was $757,525. The table below summarizes the miles of drainageways within each county in the District

Routine Maintenance Summary
| | |
| --- | --- |
| Adams County | 20.9 miles |
| Arapahoe County | 40.8 miles |
| Boulder County | 17.6 miles |
| Broomfield County | 0.2 miles |
| Denver County | 44.4 miles |
| Douglas County | 12.3 miles |
| Jefferson County | 34.1 miles |
| TOTAL | 170.3 miles |
for 2006 on which we performed regularly scheduled mowing and/or debris pickup maintenance
Construction Activities
Through October of 2006, $4,457,000 of maintenance work has been performed under our various construction contracts. The smaller projects typically address isolated drainage repairs where the construction will cost from a few hundred dollars up to $400,000. Within this cost range ninety-nine individual activities have been completed or are under contract with our "Drainageway Contractors." Smaller work items in this category of work are directly awarded to individual contractors. The larger projects are bid among all contractors from our group of eleven contractors who have qualified for open-ended contracts with the District. A major advantage of work under the open-ended contracts is the ability to use them to react quickly to local drainage needs.
When project construction will cost more than $400,000 the work is designed by a private consultant and then put out for public bid to be built by a private contractor. These larger projects typically address severe problems that have occurred on previously improved urban drainageways. Seventeen large projects were at various stages of design or construction during 2006. Our major projects for the year are summarized in the accompanying table titled "STATUS OF MAJOR MAINTENANCE PROJECTS."
Channel Repairs
High water on Massey Draw in 2004 caused damage to the channel downstream of the area that experienced the flooding conditions. Part of the length of the channel had been improved in the past and received little damage. However, damage occurred further downstream once the flood waters encountered an unimproved reach of channel. Most of the channel is tucked between the backyards of residences. The most severe locations were repaired shortly after the damage occurred. A longer reach of the channel was designed with drop structures to reduce the gradient of the creek. Construction of this work is nearly complete.
The City of Lakewood has residential areas similar to the area described above where the drainageway is pinched between rows of residences. A section of Lakewood Gulch west of Garrison Street suffers from this narrow configuration. The result has been infrequent maintenance and it made the reconstruction of the channel difficult and expensive due to the poor physical access. The channel alignment had changed over the years such that additional easements were acquired by Lakewood in order to contain the channel.
Some reaches of drainageways don't respond as expected to erosion control treatments. The situation is compounded when multiple channel elements are modified during a series of major reconstructions. The Reach of Goldsmith Gulch between Iliff Avenue and Yale Avenue has seen many changes over the last 25 years. During the subdivision phase the channel was given a very linear earth-lined configuration. A few years later the whole reach was riprap lined followed shortly by the inevitable impacts from a new sewer line paralleling the channel. Spot repairs were done until the full reach was reconstructed in the early 1990s. The longitudinal grade appears to be flat enough, yet these new improvements eroded and secondary channels formed. Spot repairs have continued with little success. The area is again under study, including the detention pond and box culvert entrance at the lower end of the reach. The project will stabilize the channel and insure that the corridor remain accessible to the neighborhood.
Multi-purpose Projects
In last year's Flood Hazard News we described several projects where we had cooperated with other localgovernments to fund multi-purpose projects. Since drainageways and parks often share the same corridor the repair of damage can be a combined effort. West Harvard Gulch at Clay Street was completed in mid-2006. The narrow park corridor left little room for the incised channel. The coordinated project resulted in a well-reinforced open channel with a comfortable and attractive parallel trail.

Sanderson Gulch at Florida Avenue presented unique opportunities for a multi-purpose project because it is not a narrowly confined drainageway. The extensive parks improvements included a better trail alignment, picnic and play areas, and many tree and shrub plantings. Some of the drainage features, including drop structures, were relocated to improve water flow as well as to accommodate the parks elements.
A patch of undisturbed indigenous prairie grasses and shrubs adjoins the proposed channel and trail work on West Harvard Gulch at the South Platte River. While we have been slowly moving forward with the right-of-way acquisition and final funding arrangements we have been able to protect the legacy vegetation area from the churning wheels of dirt-bikes. In anticipation of the final project we have used our "Drainageway Contractors" to install fencing, and reconfigure parts of the trail.
Multi-purpose projects occasionally take us into irrigated bluegrass parks. In Broomfield we used wrapped soil lifts reinforced with vegetation to provide low flow bank protection on City Park Drainageway south of Midway Boulevard. Since we were in an improved park a narrow concrete "mowstrip" was installed at the interface behind the upper soil lift to provide an edge strip for the bluegrass and a solid surface for mower wheels.
Broomfield would like to continue with similar work on the same drainageway north of Midway Boulevard.
STATUS OF MAJOR MAINTENANCE PROJECTS

Project

Jurisdiction

Cost

Status

ADAMS COUNTY
Big Dry Ck, Cozy Crnr Trib - 116th Av. &
Westminster
Design
local gov
70%
Sheridan. Repair channel and pond
partic.w/ Westy
Const
next year
0%
Line B - S. Platte River to Southern St.
Brighton
Design
26,000
90%
Build drop, remove substantial sediment
partic.w/ Brighton
Const
next year
0%
Niver Creek - York St. at Coronado Pkwy.
Adams County
Design
24,683
100%
Remove sediment and repair pipe outfalls
Const
169,870
100%
ARAPAHOE COUNTY
Big Dry Creek - B'dway to Littleton Blvd.
Littleton
Design
local gov
100%
Trail const. and assoc. bank protection
partic w/S.Suburb
Const
86,112
100%
Greenwood Gulch - W-Monaco&Orchard.
Centennial
Design
41,440
100%
Rebuild drop structure and regrade chanl
Const
89,500
100%
Greenwood Gulch - E.-Monaco&Orchard.
Centennial
Design
50,000
50%
Build drop structures and repair erosion
Const
next year
0%
Little Dry Creek - East of Colorado Blvd.
Centennial
Design
81,768
100%
Local small drops and channel repair
Const
280,875
80%
Westerly Creek - Alameda and Havana.
Centennial
Design
in-house
100%
Clean and regrade sediment trap
Const
92,752
100%
BOULDER COUNTY
Coal Creek - Centaur Village&S.Bldr Rd.
Lafayette
Design
in-house
100%
Remove sediment/debris and thin trees
Const
28,500
100%
Dry Creek #2 - N.E. of 55th St. & Arap.
Boulder
Design
100,204
100%
Replace 3 broad drop structures
Const
341,517
100%
Rock Creek - Farm west of Hwy. #287.
Boulder County
Design
76,178
100%
Channel repair, drops, trails, and plants
partic.w/Bldr Co
Const
831,835
100%
BROOMFIELD COUNTY
City Park D'way - Emerald to Midway.
Broomfield
Design
71,919
100%
Channel and bank repair
Const
295,036
100%
DENVER COUNTY
Cherry Creek - University south of 1st Av.
Denver
Design
39,990
70%
Rebuild drop and improve trail
partic. w/ Denver
Const
560,000
0%
Cherry Creek - U/s Havana & Hampden.
Denver
Design
52,000
50%
Rebuild large drop structure
partic. w/ Denver
Const
418,000
0%
Goldsmith Gulch - Iliff to Yale at Monaco
Denver
Design
87,239
75%
Repair channel, trash rack and det. pond
Const
next year
0%
Sanderson Gulch - At Florida Avenue
Denver
Design
100,138
100%
Repair banks and add & repair drops
Const
885,862
100%
West Harvard Gulch - Platte R to Railroad
Denver
Design
149,413
95%
Drops, channel repair, and trails
partic. w/ Denver
Const
857,377
0%
West Harvard Gulch - Zuni St. to Clay St.
Denver
Design
176,268
100%
Corridor study, drops, channel repair
partic. w/ Denver
Const
572,000
100%
DOUGLAS COUNTY
Big Dry Ck, Wildcat Trib - W of Quebec
Douglas County
Design
29,669
100%
Sediment removal, curb, design sed. trap
Const
48,817
100%
Big Dry Ck - SW of C-470 & Quebec
Douglas County
Design
51,969
100%
Add a drop to protect upstream drop
partic w/D.Water
Const
72,611
100%
Tallman Gulch - At Siebert Circle
Parker
Design
previous
100%
Add 1 more drops to stabilize channel
Const
95,276
100%
JEFFERSON COUNTY
Dutch Creek - SW Wadsworth,Coalmine
Jefferson County
Design
in-house
100%
Large sediment removal and a flood wall
partic w/Foothills
Const
79,821
100%
Lakewood Gul - Garrison to Independence
Lakewood
Design
15,558
100%
Drops and repair channel
Const
380,526
100%
Massey Draw - NW Wadsworth & C470
Jefferson County
Design
86,557
100%
Drops and channel repair
Const
442,627
85%
Massey Draw,N trib - S Chatfield-Allison
Jefferson County
Design
65,907
100%
Repair seep and eroded channel banks
Const
229,340
100%
Ralston Creek - At Ward Rd.& at Quaker
Arvada
Design
in-house
100%
Repair eroded local channel
Const
80,209
100%
The linear corridors provided by drainageways are ideal avenues for neighborhood trails. The reconstruction of the drop structure immediately east of University on Cherry Creek includes r e-routing the trail to accommodate a difficult bend in the alignment. The design phase, including easement acquisition by Denver, is nearly done. Construction will occur in 2007.
Detention Ponds and Sediment Control
The hydraulic design of an urban drainageway is an effort to balance the sediment-generating capability of the basin with the sediment-carrying capacity of the drainageway. The sediment balance of a drainageway changes with the urbanization and maturation of the basin. The outlet of South Urban Channel (Line B) in Brighton has a relatively flat grade where it joins the South Platte River. The District and Brighton are currently designing the sediment removal and grade control for this reach. A similarly flat reach of Coal Creek near Centaur Village in Lafayette had accumulated sediment which resulted in dense tree growth. With the guidance of the parks department we removed the sediment and debris and thinned the trees.
During the past year the Maintenance Program removed significant sediment from the sediment traps on Willow Creek south of Dry Creek Road in Centennial and on Westerly Creek northwest of Havana Street and Alameda. These facilities are functioning as designed, but that also means they need to be maintained when necessary.
An established subdivision southwest of Wadsworth and Coal Mine Road in Jefferson County has a well-defined trickle channel to carry the base flows of Dutch Creek. Our recent sediment removal and channel regrading returned the flow capacity to the creek and left it more appealing and accessible to the neighborhood.
Grade Control
Last year we mentioned that drop structures can be damaged when the channel gradient downstream from the structure is steeper than its equilibrium slope and nature then tries to flatten that slope by eroding upstream. If enough elevation is available, the erosive power of the stream can eventually undermine the foundation of the drop structure. In the Town of Parker we built drop structures two years ago on Tallman Gulch south of Main Street to reduce the channel and bank erosion that was occurring. The drops are working as intended by protecting the channel upstream from each of them. However, the downstream structure was unprotected against erosion migrating upstream toward it. We returned to the project area and installed an additional drop structure that was designed to accommodate erosion downstream.
We are half-way through the design of the rehabilitation of the tall drop structure on Cherry Creek upstream of Hampden Avenue and Havana. This drop is also suffering from downstream erosion that has migrated up to the structure. The new drop structure will accommodate the deeper downstream channel as well as the design discharge from Cherry Creek Reservoir.
A much smaller drop structure on Greenwood Gulch downstream of Monaco Way in Centennial was suffering from similar downstream erosion. The rehabilitated structure had an enlarged cutoff wall and deeper toe protection at its downstream end.
Upstream of Monaco Way a design is underway on Greenwood Gulch to stop the uncontrolled erosion. The project will likely include drop structures to reduce the erosive power of the creek by reducing the longitudinal gradient of the channel.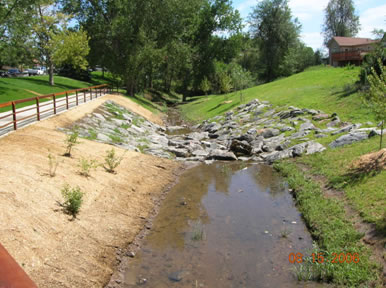 West Harvard Gulch in Denver east of Clay Street. In this mature neighborhood there was little option to this linear alignment. The drop structure will control the grade of the stream and prevent the channel from again becoming incised.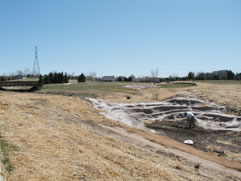 Sculpted drop on Sulphur Gulch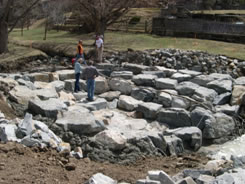 Grouted sloping boulder drop on Greenwood Gulch