Ben Urbonas Receives a Lifetime Achievement Award
---
The Environment and Water Resources Institute of the American Society of Civil Engineers presented a Lifetime Achievement Award to Ben Urbonas of our staff at their annual meeting in Omaha in May, 2006.
He was one of three to receive this award from the 40,000 member organization. The other two recipients were William H. Espey and Daniel A. Okum. The inscription on the award reads: "In recognition for a life-long and eminent contribution to the environmental and water resources engineering disciplines through practice, research, and public service."
The Board of Directors of the Urban Drainage and Flood Control District recognized the contributions Ben has made to the District and his profession, and congratulated him on receiving this award, and, in June, passed a resolution to that effect. Congratulations Ben!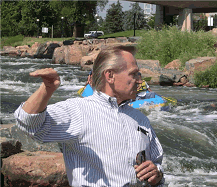 Ben, describing how the boat chute at Confluence Park was designed and built.