South Platte River Program Notes
by
Ben Urbonas, P. E.
Chief, South Platte River Program
Local Initiatives Along the Platte
City and County of Denver
We reported last year that the City and County of Denver launched a major South Platte River initiative. The Mayor of Denver set up a South Platte River Commission with a membership representing a variety of federal, state and local organizations with interests in technical, neighborhood redevelopment, political, fiscal, environmental and other issues. This initiative also involved a number of staff working groups that have addressed minimum river flows for a fishery and in-river recreation, trails and recreation along the river, water quality, wildlife, local flora and fauna, rafting and kayaking, aquatic habitat, open space needs, river stability, etc. As a result, the river's potential is being examined from a holistic perspective.
The District continues to support Denver in its efforts to improve the river and its various functions in the city. Much of the District's work revolves around routine and restorative maintenance and in assisting Denver with its capital improvement projects along the river. The details of several projects are reported later in this article.
Adams County
We also reported before that Adams County began a comprehensive look at the South Platte River corridor as an open space and recreational resource. Under a grant from GOCO the county has completed an inventory of the open space resource and recreational needs of the county and of the cities within the county. The county has also developed an open space and recreation plan for the river corridor, which is being finalized at this time.
Maintenance Activities
Routine Maintenance
In 1997 the South Platte River routine maintenance included an equivalent of:
| | |
| --- | --- |
| | 9 miles of tree trimming and pruning along the river trail, |
| | 59 miles of trail edge mowing, and |
| | 163 miles of trash and debris pickup and removal along the river. |
Approximately 90 truckloads of trash and debris were removed and taken to a landfill. Local government personnel and volunteer groups picked up and removed additional trash from the river corridor. Trash is also removed from trash receptacles maintained by park personnel along all recreational trails.
Although this type of routine maintenance often is not noticed or recognized by the public, without it the South Platte River corridor within the District would have an entirely different "look" and "feel." This type of maintenance we believe is essential for the preservation of wildlife habitat, and provides the public with a more pleasant experience whenever visiting the many trail and pocket park facilities that now exist along the 41 miles of the South Platte River between Chatfield Reservoir and the Weld/Adams County line.
Restoration Maintenance
The restoration maintenance program in 1997 continued to repair erosion damage along the combined recreation and maintenance trail; repair the trail and maintenance access bridges; cut and remove large numbers of dead Siberian Elm and live Russian Olive trees; and stabilize, rehabilitate, and re-vegetate approximately 2000 feet of river banks.
We reported last year that we have completed the removal of infected dead Siberian Elm trees along the South Platte River through Denver and southern Adams County, with a total of 1,500 trees cut and chipped. In 1997 300 more dead trees were removed because of the continuing epidemic of Dutch Elm disease. In addition, at the request of South Suburban Parks and Recreation District and the Colorado Water Conservation Board (as a follow up on a request made by the U.S. Army Corps of Engineers), we have removed and chipped over 650 live Russian Olive trees that have invaded the riverbanks in Arapahoe County. We hope to introduce Plains Cottonwood live poles in many of the areas where the dead Siberian Elm and live Russian Olive trees were removed. Over time we hope to return the tree cover along the South Platte River to a more representative indigenous state, replacing many of the exotic, invasive, species now populating its banks.
One of the obstacles we face with the reintroduction of native riparian species along the river, such as cottonwood trees, is the overabundance of beaver. Outside of an urban area where there may be a much wider and abundant corridor for tree growth, the river corridor through this urban center is narrow and can only support a limited number of plants. Beaver, which have no known predators in this corridor, enthusiastically harvest our plantings for food and shelter. The only way we can keep new and old natives from being chewed off is by protecting them with wire mesh baskets, which add considerably to the cost of tree replacement. We continue to hope that the Sate of Colorado and the cities and counties within the District along the South Platte River begin some form of beaver control program. Since the river corridor is not the District's property, we do not feel it is appropriate for us to take a lead in such an effort.
The District is now financially assisting Denver Parks and Recreation Department (37.5% cost share) to replace two rapidly deteriorating timber pedestrian bridges. These timber bridges will be replaced in the spring of 1998 with wider steel ones that will need less maintenance and will be more resistant to vandalism. They will also meet ADA access requirements. Over the next three to five years we hope to continue to work with Denver to replace four more deteriorating timber bridges along the South Platte River.
The restoration project along the west bank of the river just downstream of 160th Avenue in the City of Brighton is complete. The City has preserved the riverbank as a relatively undisturbed natural area. Many of the large trees previously in danger of being uprooted by bank erosion are more protected by a stabilized bank.
Another restoration project constructed this year involved the installation of weirs or jetties along the outside edge of an eroding river bend (see Alternative Bank Stabilization article in this issue). So far the project has been successful at arresting bank erosion and protecting against loss of riparian vegetation and wildlife habitat.
Cooperative Projects With Private Property Owners
In 1997 two more cooperative projects were completed. The first coop project involved bank restoration along 1,100 feet of property owned by Mr. and Mrs. Jack Rogers near 168th Avenue in Adams County. The project arrested bank erosion that threatened to breech the existing berm separating the river and the adjacent sand and gravel mining operation.
The second coop project completed in 1997 involved bank stabilization of 850 feet of badly eroded bank one-half mile downstream of Brantner Ditch diversion structure and adjacent to the Suburban Sand and Gravel pit operated by Aggregate, Inc. Part of the owner's contribution to this project included labor, equipment, and materials at a below-market price, in addition to the dedication of a flowage and maintenance access easement. The bank was seeded and mulched with native grasses. Live stake willow planting along the bank will take place in early spring of 1998.
Two new cooperative projects have also been started. One will clean up a river bank covered with broken concrete pipe, bed springs, car bodies – you name it! Albert Frei and Sons, the McIntosh Farm Company, and the District have agreed to jointly fund, by way of easement dedication and below-market equipment and material costs, over 1,400 feet of bank cleanup, stabilization with buried riprap and rubble, and revegetation with native grasses and willow.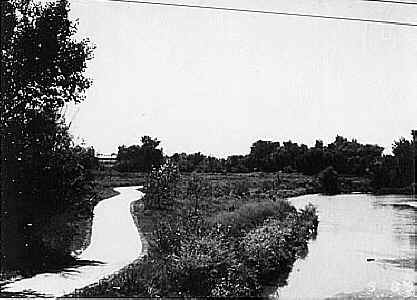 South Platte River restorative maintenance at 160th Avenue.
As a follow up to the success with Aggregate, Inc. on the above-mentioned project, the District entered into another cooperative agreement with them. This one will restore 1,100 feet of eroded bank approximately one mile further downstream. We expect both of these new projects to be completed by the spring of 1998.
An example of a maturing restorative maintenance project is the project completed three years ago along the east bank of the river just upstream of 160th Street Bridge. At this location the bank and overbank were covered with concrete rubble and asphalt slabs. Although a few small Siberian Elm trees and other exotic vegetation established themselves in the rubble, the bank was very steep and offered virtually no wildlife habitat. Now the bank is much flatter and is covered by a healthy stand of new trees, shrubs and native grasses.
Capital Improvement Projects
Upper Central Platte Valley Project
During the last three years we have been working with Denver and the Public Service Company of Colorado (PSCo) to develop and design the Upper Central Platte Valley Project. PSCo, the owners of the Zuni Electric and Steam Generating Plant, has agreed to a concept of switching its cooling system from one-pass conductive cooling to a closed-loop, recirculating evaporative system. When this is done, only 10% of the water currently being diverted will need to be diverted in the future. This reduction will permit the use of an infiltration gallery for water diversions instead of a diversion dam and other associated surface structures.
After a year of testing a prototype system constructed within the river channel itself, we have concluded that an infiltration gallery will reliably provide the needed water. Water quality samples show that water from the gallery compares well with the surface water quality, and should provide little operational difference to PSCo in the future. Once the switch from surface diversion to an infiltration gallery is made, the options for river rehabilitation expand and allow for a more aesthetic "natural" appearance and much improved boating and aquatic and terrestrial habitat. This progress notwithstanding, funding the construction of this river restoration project remains a major challenge.
Globeville Area Project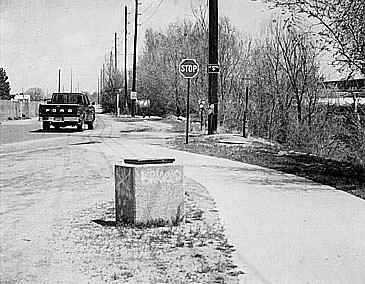 Before and after views of South Platte River at Globeville.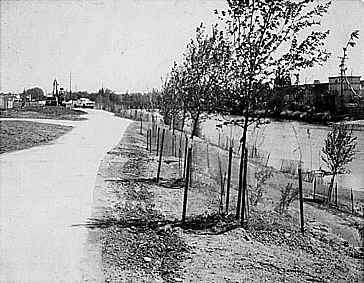 The other ongoing capital project along the river is located in the Globeville neighborhood in north Denver. Phase I of the project covering 2,000 feet of South Platte River has now been completed. Despite the fact that this is a flood control project, the primary focus was on river bank and aquatic habitat rehabilitation. Improvements also included the construction of a recreational trail and better access to the river by the adjacent community. Construction of Phase II, encompassing another 5,000 feet of the river upstream of Phase I, is under way. We expect this construction to be completed by May of 1998.
The funding for the final phase (Phase III) of this project, which is immediately downstream of Phase I, has now been identified. Denver and the District expect to commit approximately $6,000,000 for this key link of this flood protection and recreational improvements project. A physical hydraulic model of Phase III is now under construction at the Colorado State University hydraulics laboratories, with the test scheduled to begin in March of 1998. We hope to have this phase of the project under construction in 1999.
Once completed, approximately 300 acres of existing inner city residential, industrial and commercial area will be removed from the 100-year regulatory floodplain. In addition, 7,000 feet of the river's channel will have been rehabilitated, a recreational trail separated from traffic and connected to the Adams County's trail system, and the community's access to the river and the environment for this old neighborhood of Denver will be significantly improved.
Other News and Projects
Early in 1997, Denver requested the District to take the lead in the design of low flow channel improvements between 15th Street and the downstream limits of the new Rockmont Park. The design includes aquatic habitat improvements through the use of low flow training jetties that simulate the appearance of rock outcrops occurring naturally in this reach of the river and low level grade control structures that provide pools and riffles. Denver will construct this project upstream of 19th Street in 1998 as part of its Commons Park construction. The District will build four grade control structures for Denver downstream of 19th Street using its restorative maintenance funds. These structures are needed to arrest continued degradation of the river's bottom, in addition to providing improved aquatic habitat and boatability of this stretch of the river. Work for these four structures will be completed by April of 1998.
Also in 1998, the District will head up a project to update the South Platte River Major Drainageway Plan through Adams County. This project is being cosponsored by Metro Wastewater Reclamation District, Adams County, City of Thornton, City of Brighton and Commerce City. It will examine the current plan and adjust to meet current needs and visions for the river. The project will rely heavily on the input of the project sponsors, state and federal agencies, and the public. We will look at water quality, aquatic and terrestrial habitat needs, open space needs, recreational needs, water resources development needs, gravel mining and its impacts on the river corridor, and many other issues that surround this very important river reach in Adams County. We hope to have the first phase of the plan completed in 1998 and the final plan completed in 1999.

[ Up ] [ Cover Story ] [ Tucker Talk ] [ Construction ] [ Maintenance ] [ Floodplain Mngmt ] [ Flood Warning ] [ Master Planning ] [ NPDES Permitting ] [ Sand Filter Design ] [ South Platte River ] [ Bank Stabilization ] [ Re-Greening Efforts ] [ New Staff ] [ Activities & Links ]