ALTERNATIVE BANK STABILIZATION
ON THE
SOUTH PLATTE RIVER by
Bryan W. Kohlenberg, P. E.
Project Engineer, South Platte River Program

Actively eroding banks along the South Platte River are typically vertical with minimal amounts of vegetation along the toe. The traditional method for stabilization involves laying back to a 2:1 slope and armoring the slope with riprap. In the last 10 years the District has modified this by providing a flatter slope and using buried revegetated riprap to enhance the riparian habitat. Recently the South Platte River program has tried using bendway weirs (i.e., rock jetties) to arrest bank erosion.

In a typical river bend, surface water currents tend to move toward the outer bank, concentrating flow and higher velocities along the bank edge, resulting in severe bank erosion. The traditional rock riprap revetment installation resists this increased bank velocity. The bendway weir method, however, involves redirecting the bank velocity away from the bank towards the middle of the bend. With a series of weirs angled upstream along the outside of a bend, the current is redirected through the bend and into the downstream crossing.

For the last four years, a bending reach of the South Platte River in Adams County was observed to have moved 50 feet laterally, endangering several mature cottonwood trees. Since the traditional method required removal of the trees, the weir concept was tried for bank stabilization.

At a cost equivalent to the bank lining method, the District installed a series of five jetties along the outside bend of this river reach at approximately 152nd Avenue in Adams County. The jetties are essentially small berms of 12 inch (d50) riprap keyed into the existing bank, extending into the low flow channel approximately 40 feet and angled 5 to 15 degrees upstream (See Figure). The rock was mixed with in-situ soils and revegetated with willows and native grass where possible.

Since construction early this year we have observed:
| | |
| --- | --- |
| | Sediment deposition between jetties and adjacent to the vertical bank. |
| | New scour holes at the jetty points (great fish habitat). |
| | Erosion along the vertical bank has stopped. |
| | Woody debris can be placed between jetties with little or no anchoring needed. |
The District will try additional installations such as this and will continue to monitor them over the next few years. We will report our findings in future issues of Flood Hazard News.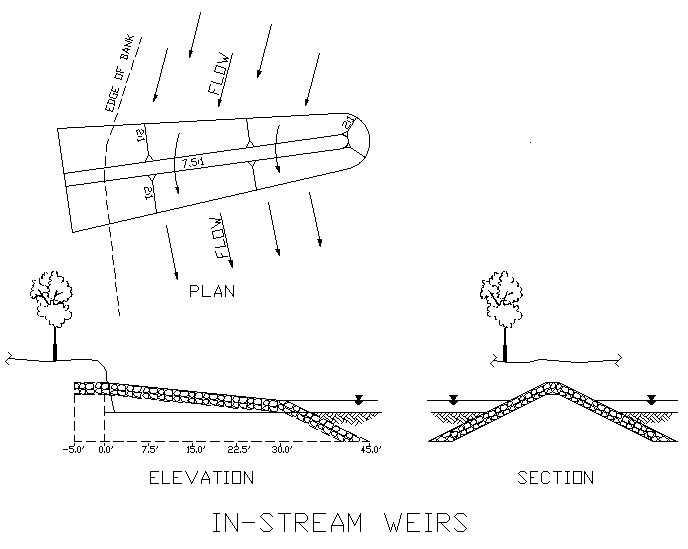 [ Up ] [ Cover Story ] [ Tucker Talk ] [ Construction ] [ Maintenance ] [ Floodplain Mngmt ] [ Flood Warning ] [ Master Planning ] [ NPDES Permitting ] [ Sand Filter Design ] [ South Platte River ] [ Bank Stabilization ] [ Re-Greening Efforts ] [ New Staff ] [ Activities & Links ]