The District Floods of 1997
by
Kevin G. Stewart, P. E.
Project Engineer, Floodplain Management Program
The summer of 1997 will be long remembered for the devastating July 28 flash flood in Fort Collins which killed 5 people and caused millions of dollars in damage along Spring Creek and at Colorado State University. The following evening, storms on the eastern plains continued to threaten lives and destroy properties, inundating large areas surrounding the communities of Sterling, Atwood and Weldona. On August 1 President Clinton declared three Colorado counties (Larimer, Logan and Morgan) federal flood disaster areas. Ten additional counties were subsequently included.
This federal declaration was the first for Colorado since the 1984 western slope floods. While the extent of flooding and storm magnitudes varied among the 13 disaster counties, the Colorado Water Conservation Board reported that six counties (Larimer, Logan, Morgan, Elbert, El Paso, Lincoln) experienced storms with rainfall amounts exceeding 10-inches.
Upon first glance it might appear that the District "dodged-the-bullet," but a closer look reveals that the Denver area, while escaping "flood disaster status," did experience its worst flooding of the past decade. The remainder of this article is devoted to the more notable District floods of 1997.
| | |
| --- | --- |
| | Errata...Concerning the above figure, Weld County should have been depicted as one of the 13 disaster counties and El Paso County should have been excluded. The statement regarding the 10" rainfall event in El Paso County is correct. |

Friday, May 23:
The first Denver flood news headline of the year resulted from the rupture of a 66" water main inundating large businesses and residential areas along either side of I-25 near 56th and Broadway. By the end of the summer of 1997, this event in retrospect appears long since forgotten.
Saturday, July 19:
At approximately 4:00 p.m., a severe thunderstorm in NE Denver and NW Aurora produced 3.83" of rain in less than an hour, exceeding the official Denver one-hour record of 2.2" set on August 13, 1921. This storm was accompanied by copious amounts of hail with stone diameters reaching 1.25 inches. It is interesting to note that although these observations were made by the National Weather Service (NWS) at their forecast office near Smith Road and Havana, the 1921 event retains its status in the record books because the "official" Denver rain gage, now located at DIA, only measured 0.59 inches.
Westerly Creek, a tributary to Sand Creek which enters the old Stapleton International Airport property from the south, flowed out of its banks and nearly overtopped Montview Blvd. The Montview culverts are designed to safely pass a 10-year flood, a project completed by Denver, Aurora and the District in 1980.
The Sand Creek ALERT gage at Brighton Road in Commerce City peaked at 3350 cfs exceeding its prior gage record of 2760 cfs (7/9/90). The new gage record set on July 19 was exceeded again on two separate occasions before the month's end by discharges of 4200 cfs of July 29 and 3690 cfs on July 30. The historic flood of record for Sand Creek (25,000 cfs) occurred on May 8, 1957, from a 4" plus rainfall covering much of the upper basin. The infamous 1965 flood resulted in a peak of 18,900 cfs.
The July 19 storm caused a roof cave-in at the Leather Factory Warehouse near 51st Ave. and Havana while another storm dropped 4" of rain near the Interlocken Office Park in Broomfield, causing the closure of US Highway 36 where floodwaters overtopped the concrete median barrier.
In hindsight, July 19 was a precursor of things to come and a landmark day denoting the start of the Denver monsoon season, as it was preceded by 23 days of relatively dry weather where no heavy rainfall was predicted and followed by an 18-day period of significant flood potential. Henz Meteorological Services issued messages to local authorities on all but two of these days. Flash flood watches affecting the District were issued by the NWS for eight days in this period, and three flash flood warnings were also issued.
Sunday, July 27: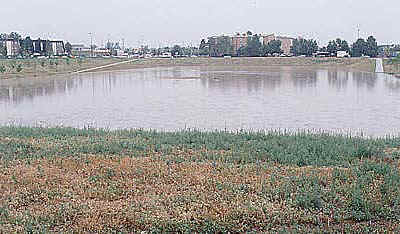 Iliff Stormwater Detention Basin on Goldsmith Gulch
in Denver on July 27, 1997.
Between 3:00 and 4:00 p.m., Goldsmith Gulch in Denver was hit by heavy rains with 1.66" falling at the Denver Tech Center (DTC). Downstream floodwaters approached 10-year levels causing the recently completed side-channel detention facility near Iliff Avenue to function. This flood control facility, constructed by Denver and the District in 1996 was credited with preventing damages downstream. Local residents were pleased with its performance. A minor glitch did occur, however, when the pump which drains the facility failed to start. Denver Wastewater Management Division officials corrected the problem the next day. This event received extensive media coverage and good photo documentation was obtained.
The Eastman Avenue ALERT gage peaked at 4 p.m. at a depth of 7.4' with an estimated discharge of 1670 cfs, exceeding its prior record of 1470 cfs (8/2/91). The Temple Pond gage at the DTC had a maximum water depth of 8.2' and a peak outflow of 470 cfs.
Almost immediately after the Denver storm had ended, and while Goldsmith Gulch flooding was at its worst, another storm developed in central Jefferson County over the headwaters of Lena Gulch. This second storm produced a 1.85" downpour near the intersection of US Highways 6 & 40 in Golden. At 4:35 p.m., the NWS issued a flash flood warning for Lena Gulch, affecting Golden and Pleasant View where the Mountainside Mobile Estates entrance road was inundated by 2 to 3-feet of water. Fortunately the storm was isolated and only resulted in minor flood damages and temporary inconvenience for motorists.
Monday, July 28:
As mentioned at the beginning of this article, July 28 will be marked in Colorado history as the day of the Fort Collins Flash Flood of 1997. The Denver area was under a similar weather threat all day, but fortunately our number did not come up, at least not in the disaster category. Some significant flooding did occur, however, with Goldsmith Gulch being hit hard for the second consecutive day, exceeding the prior day's peak at Eastman Avenue by one foot and setting a new record of 2040 cfs at 6:30 p.m.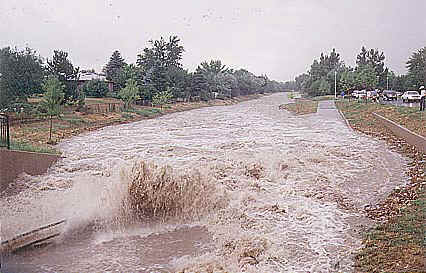 Goldsmith Gulch downstream of Yale Avenue on July 28, 1997.
Upstream at Temple Pond, Goldsmith floodwaters pooled to a depth of 9.5' releasing 500 cfs. Downstream of Eastman at Yale Avenue the peak flow was estimated at 1850 cfs and classified as a 10-year event. According to the Goldsmith Gulch design hydrology model, the discharge at Eastman approached the 50-year mark. As with the previous day's storm, the Iliff detention facility and improved channel reaches performed as designed preventing significant damages. By 9:00 p.m., Goldsmith Gulch floodwaters had combined with Cherry Creek flows causing the Market Street gage in lower downtown Denver to measure its new record peak of 3200 cfs. The Cherry Creek gage at Steele Street also set a new record at 2350 cfs. Heavy rains in other parts of Denver and Aurora caused localized flooding of many roads, parking lots and basements. In Aurora, road washouts occurred in the upper Sand Creek basin along Coal Creek at Gun club Road, Picadilly Road and Jewell Ave. Some homes in the Coal Creek floodplain also sustained damage. Unofficial rainfall estimates of up to 6" were reported in local Denver newspapers the next day.
Table 1
July 28 Peak Rainfall for Goldsmith Gulch (inches)
ALERT STATION
10-min
30-min
60-min
TOTAL
Temple Pond at DTC
0.74
1.42
1.54
1.61
Goldsmith at Eastman
0.67
1.34
1.46
1.85
Table 1 shows the rain intensities and totals measured by the ALERT system for Goldsmith Gulch on July 28. In contrast, the disastrous Fort Collins storm occurred later in the evening and produced more than 11" over a 4-hour period.
Tuesday, July 29:
Late evening rainfall on July 28 caused the Sand Creek ALERT gage to measure a new record flow of 4200 cfs at 2:47 a.m. (see July 19 discussion). At Sand Creek Park near its crossing with I-225, the pedestrian trail crossing was overtopped by 4.4 feet, and the discharge was estimated at 3480 cfs, another ALERT gage record. While the search for victims was continuing in Fort Collins, readers of the July 29 Rocky Mountain News were greeted by a front page photograph of a 12-year-old girl and a car floating in a flooded parking lot at Quebec St. and Leetsdale Drive in Denver.
Wednesday, July 30:
At 3:25 p. m. a flash flood warning was issued by the NWS for Boulder Creek and for small streams in northern Jefferson County. Some landslides occurred in the mountains along South Boulder Creek and localized street flooding was widespread in the warning area. Fortunately, the heavy mountain rains did not cause any major stream flooding.
Evening storms in Aurora caused the Utah Park detention pond in the upper Westerly Creek basin to overflow onto adjacent streets, making headline news for local television stations. Precautionary sandbagging was performed by public works officials along Peoria Street between Mexico and Florida, safely conveying floodwaters back to Westerly Creek. Aurora officials estimate that flood levels at this location approached the 100-year threshold. The ALERT system measured more than 3 inches of rain in the drainage basin above Utah Park. At 8:05 p. m. the NWS issued a flash flood warning for Westerly Creek in coordination with officials from Aurora and the District.
10-Minute Rainfall Amounts at Aurora Fire Station No. 7 on July 30, 1997.
The Granby Ditch detention basin at East 6th Ave. ponded floodwaters 11 feet deep and came within 2 feet of overtopping the street. This facility is designed to handle 100-year developed runoff. During the event, the ALERT gage at this location gave Aurora officials confidence that an emergency response at this location would not be needed.
Thursday, July 31:
Heavy rains in Arapahoe County and Littleton caused new ALERT gage depth records at Holly Dam (15 feet) on Little Dry Creek, and at the Grant Street detention basin (5.3 feet) on Slaughterhouse Gulch.
Monday, August 4: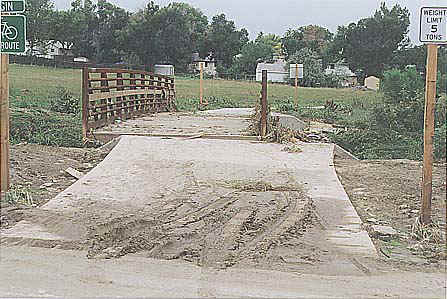 Pedestrian crossing of Little Dry Creek at Grove Street
in Adams County.
Little Dry Creek in Adams County flooded causing damages to public facilities and homes in its lower reaches below Lowell Blvd. The fireplace store upstream of Lowell, frequently damaged in past floods, was spared this time by the 1986 construction of a new bridge. The bridge superstructure was partially inundated, but no road overtopping occurred here. Downstream at Grove Street, the KCNC-Channel 4 News helicopter rescued a man who drove his pickup into the floodwaters. Fire rescue crews were unable to safely reach the victim. Pedestrian bridges in this area were shifted along their foundation by as much as 3 feet by the force of the water and debris. Further downstream railroad transportation was threatened by floodwaters.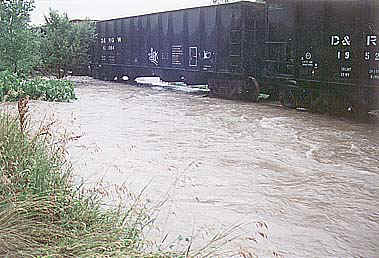 Mainline railroad threatened by Little Dry Creek on August 4, 1997.
In Arvada, flooding upstream of Pomona Drive and Wadsworth came very close to damaging homes while low area flooding west of the intersection made the street impassable. At the former site of the Valley Mobile Manor where 56th Ave. crosses Ralston Creek, some of the old concrete slab channel wall panels collapsed. The relocation of this mobile home park in 1996 by Arvada and the District clearly prevented damages here. Arvada residents reported rainfall amounts of 3 to 3.25" from this storm.
In Columbine Valley, Drainageway 'E' overtopped Platte Canyon Road.
Monday, August 11:
Insurance companies, affected homeowners and gardening enthusiasts will remember this day. Hail depths of up to 2 feet, driving rains and high winds caused an estimated $150-million in damage in Lakewood and Denver. A rainfall amount of 1" in 10-minutes was measured by the Cherry Creek gage in downtown Denver, and after the hail melted, the total measured precipitation exceeded 2 inches. Cherry Creek flowed wall-to-wall at a depth of approximately 5 feet and a peak discharge of 2640 cfs. This was the second highest measurement for Cherry Creek this year, exceeded only by the July 28 event.
Thursday, September 4:
Not withstanding the October 24 snow storm, this day may have been the last hurrah for heavy precipitation in Denver for 1997. Cherry Creek flowed wall-to-wall once again as captured by late evening news reports. Steve Paulson, Meteorologist for KMGH-Channel 7 News, opened the evening news broadcast with a report concerning Denver's weather. Data obtained from the ALERT system was reported while the event was still in progress. Five rain gages had alarmed (1" in less than 1-hour) by 9:45 p.m. The locations and amounts were accurately reported to the public at the start of the 10 p.m. broadcast. Live video of Cherry Creek was shown later during the program's normal weather segment and Steve made excellent use of the ALERT stream gage data to describe current flow conditions. The District appreciates the cooperation of our local news media and the working partnerships that have developed.

Some Statistical Facts
The official July rainfall total for Denver of 5.60" made 1997 the second wettest July in Denver's 126-year record, with the average for the month being just under 2 inches. The wettest July was in 1965 with an official amount of 6.41 inches. Six ALERT rain gages in Denver and Aurora exceeded the 5.60" official total measured at DIA. The maximum ALERT rainfall for July (6.38" at Granby Ditch) occurred in Aurora near Buckley Air Force Base.
Table 2: 30-Day Rainfall Totals Ending August 17, 1997 (inches)

LOCATION

AMOUNT

LOCATION

AMOUNT

Aurora (6th & Buckley)

10.0

Boulder Co. (Gross)

5.2

Aurora (Utah Park)

8.2

Golden

5.1

Broomfield

7.5

Boulder Canyon

4.9

Denver (Southeast)

7.9

Wheat Ridge

4.7

Denver (downtown)

6.9

Commerce City

4.5

Lakewood

6.4

Morrison

4.2

Arvada

5.2

Thornton

4.1

Louisville

5.2

Boulder

3.8
Denver's wettest August was 1979, with a record total of 5.85 inches. The official 1997 August total was 3.52" and the maximum ALERT rainfall of 4.53" was measured in Aurora. Nine other gages in the network also recorded amounts exceeding 4 inches (Table 2). Denver's average rainfall for the month of August is 1.65 inches.
Recalling that six counties in Colorado experienced storm rainfalls exceeding 10" in 1997, it is interesting to note the total rainfall for the wettest 30-day period measured by the ALERT system.
An article elsewhere in this Flood Hazard News contains additional information about the ALERT system, the 1997 Flash Flood Prediction Program, and other related activities. Flood documentation is a routine function of the District's Floodplain Management Program and the information gathered is available for public inspection upon request.

[ Up ] [ Cover Story ] [ Tucker Talk ] [ Construction ] [ Maintenance ] [ Floodplain Mngmt ] [ Flood Warning ] [ Master Planning ] [ NPDES Permitting ] [ Sand Filter Design ] [ South Platte River ] [ Bank Stabilization ] [ Re-Greening Efforts ] [ New Staff ] [ Activities & Links ]