[Fraug 4/28/2014] September 2013 Peak Flow Estimates
We are putting together a webmap tool to view peak flow estimates from the floods of last September.  Thought you all might be interested in this.  Your comments are always welcome.  This is a work in progress.
URL is http://udfcd.maps.arcgis.com/apps/OnePane/basicviewer/index.html?appid=326e38499aa6453bb4ccc56f7facbf6c
See also https://alert5.udfcd.org/?page_id=115 for link.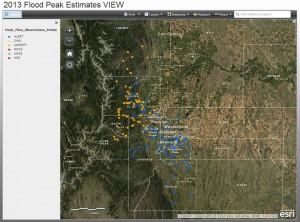 ESRI webmap tool for finding peak flow estimates from floods of September 9-15, 2013