Open Space Along Drainageways
Benefits New Developments
by
David Mallory, P.E., Project Engineer, Floodplain Management Program
Land development projects are responsible for the construction of the majority of major drainageway facilities in the Denver metropolitan area. The District expends considerable effort working with local governments reviewing development proposals for inclusion in the District's maintenance eligibility program. Although the District will accept these facilities for maintenance eligibility, except for closed conduits, we have always encouraged floodplain and open space preservation as our preferred option. Indeed our maintenance eligibility guidelines require only low flow stabilization and maintenance access for preservation projects. The concept of floodplain/floodway preservation provides many floodplain management benefits. Natural drainageways are valuable resources in terms of environmental corridors and wildlife habitat and provide tremendous recreational and educational opportunities.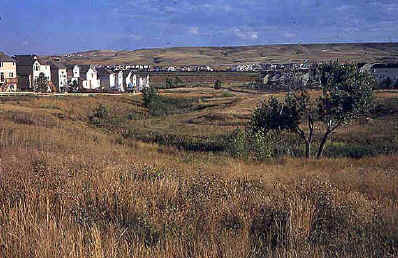 Open space along an unnamed tributary at Rock Creek Ranch
From the District's viewpoint, the closed conduit is the least desirable approach that provides no floodplain benefit. The engineered channel is more commonly used and can be made eligible for District maintenance assistance. Adding a wetland bottom and enlarged overbank areas is a step in the right direction. However, nothing can improve on nature. Even floodplain fringe encroachment with bottom area preservation offers a significant improvement over the engineered channel as an environmental resource and community amenity.
Most subdivision proposals grudgingly allocate the minimum area to flood flow conveyance and open space needs. However, in the past twenty years, several large-scale developments have done a wonderful job of providing a generous open space set aside along major drainageways.
Mission Viejo (now Shea Homes) began the Highlands Ranch development in the early 1980's. The original planners envisioned a 22,000-acre, 36,000 lot master planned community with 5 million square feet of commercial space. Douglas County's Open Space Conservation Area (OSCA) was created with 8200 acres from the original parcel. Highlands Ranch Metropolitan Districts now manage 1800 acres of parks and open space, 40 miles of trails and two golf courses situated along Dad Clark Gulch, Big Dry Creek, Marcy Gulch and Spring Gulch.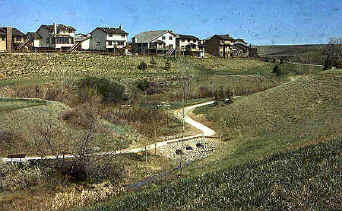 Highlands Ranch open space in Douglas County
Highlands Ranch Outdoors Community Survey (July 1999) reports that trails were significantly rated most important by residents when compared to other outdoor recreation facilities. Preserving natural areas was identified as the number one management objective. Outdoor recreation opportunities figured prominently in residents' decisions to purchase homes in the Highlands Ranch community.
The continuous open space/drainageway corridors provide an important environmental connection between the OSCA and Chatfield State Park, McClellan Reservoir, and adjacent drainageway corridors. The combination of low flow stabilization, regional detention ponds and base flows created by urbanization has enhanced wetland and riparian zones (see "Added Benefits of Grade Control Structures," Flood Hazard News, Dec., 1999). During the last eight years, wetland coverage has increased from 9- to 39-acres without further human intervention. A recent survey by the Audubon Society found a diverse bird population with over 150 species identified.
Homes adjacent to open space areas fetch at least a 10% premium. Imagine the premium revenue from the nearly 3500 homes in this category. Highlands Ranch has recently attracted several major commercial clients, including Lucent Technologies, QWest and Visa. Home sales of course have always been robust, even during the slow growth years in the early 1980's.
Similarly, Richmond Homes' Rock Creek Ranch development, located in Superior, has become a very successful master planned community. The 1,600-acre site includes 3,000 single family lots, 2,000 multifamily units and 2 million square feet dedicated to commercial and residential development. A generous 640-acre open space set aside is situated along Rock Creek and six major tributaries. Improvements include 10 miles of stabilized natural drainageway/open space corridors, fifteen regional flood control/water quality ponds and numerous outdoor recreation facilities. McLaughlin Water Engineers formulated and implemented an innovative comprehensive water management plan. The plan addresses domestic water production, conservation, advanced wastewater treatment, effluent reuse irrigation and water quality treatment of all urban stormwater runoff.
The Colorado Association of Stormwater and Floodplain Managers presented its 1998 Grand Award to Rock Creek Ranch for its floodplain preservation and stormwater management efforts. The result is a wonderful community amenity in terms of natural open space preservation, outdoor recreation and educational value. Drainageway corridors serve as an "outdoor lab" for children at the Superior Elementary School. "Superior's holistic water management approach is especially appropriate for a community in a region where water is a scarce commodity. It is a good example of how environmental sensitivity and economic reality can coexist as mutually compatible goals" (Roger McCoy, Special Districts Manager).
Another development worthy of mention is the next phase of Green Valley Ranch which will be developed by Oakwood Homes. First Creek and Tributary T flow through the 1266-acre site. The open space and adjacent golf course set aside will be 375 acres, or 30% of the total parcel. The project will finish out with 5,000 dwelling units and 140 acres of commercial development. Proposed drainageway improvements are simple. Sellards & Grigg designed low flow stabilization and 260 acre feet of flood storage on the golf course behind the Himalaya Avenue roadway embankment. The golf course will provide a buffer between residential development and natural areas. A significant aspect of this project was the developer's willingness to participate in regional drainageway planning. The result will be a new golf course, significant floodplain preservation and a beautiful new Denver community.
Developers of large master planned communities are willing to take a holistic approach to open space and drainageway planning because they recognize the financial and marketing incentives in addition to environmental and floodplain management benefits for their projects. But how about smaller projects? It turns out that a number of smaller projects have also created floodplain preservation based amenities. The process is similar. Complete a master land use, open space and floodplain management plan. Include recreation and stormwater management aspects. Emphasize continuity and look for regional environmental and recreational connection opportunities. Recognize financial and marketing incentives. A golf course is not essential but certainly a bonus. Examples of successful moderate scale projects include Hidden River along Tallman Gulch in Parker, the Sanctuary in Jefferson County and Rock Creek through the Flatirons Mall development in Broomfield.
In generously setting aside and preserving natural resources, land development projects preserve landforms, environmental assets, mitigate flood risk and enhance community value. It's a time proven development approach that succeeds in both strong and weak economic cycles. The reason of course is because people respond very positively to these amenities.
The following individuals provided information and/or photographs for this article: Mike Galuzzi, McLaughlin Water Engineers; Steve Dougherty, ERO Resources Corp.; Steve Ormiston, Shea Homes; Dick Leopoldus, Oakwood Homes and Chris Seeley, Highlands Ranch Metro Districts.
---
[ Cover Story ] [ Viele Channel ] [ Tucker Talk ] [ Master Planning ] [ Stormwater Permits ] [ Construction ] [ Maintenance ] [ South Platte River ] [ Professional Activities ] [ Awards ] [ Software ] [ Seminar ] [ Floodplain Management ] [ Flood Warning ]