MHFD's Email Subscription Service
RAINFALL RATE ALARMS: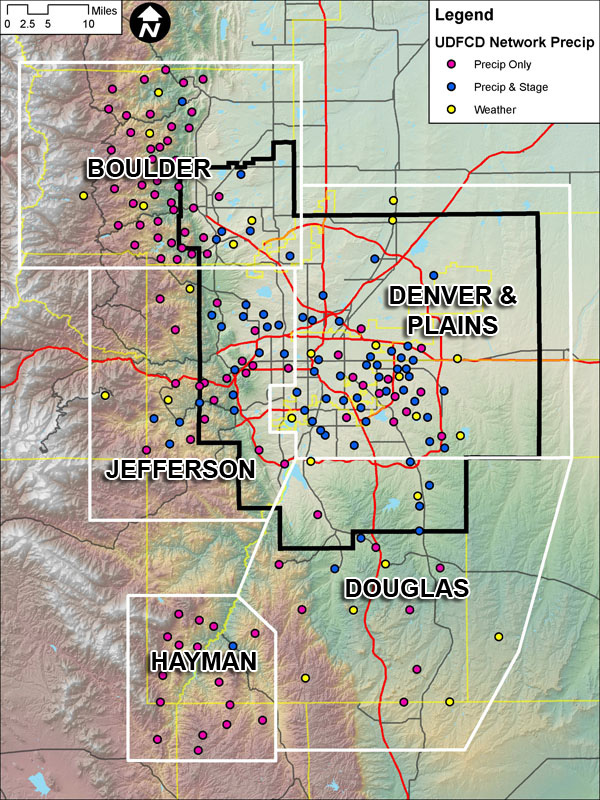 The map shows the extent of each alarm zone that corresponds to the subscription list names in the table above. Alarm notifications are sent whenever a gauge measurement exceeds one or more of the following rainfall rate thresholds:
0.5" in 10-minutes
1" in 1-hour
3" in 2-hours
5" in 6-hours
5″ in 24-hours
10″ in 72-hours
Additional lower thresholds apply to burn areas.
WATER LEVEL ALARMS:
INSTRUCTIONS:
The above lists provide a convenient way for you to automatically receive alarms from the ALERT System. Click on the subscribe or unsubscribe link and your browser automatically creates a join or leave email request. Then just send the email without adding any additional content. You may subscribe to as many lists as you like.
IMPORTANT…Your email subscription request must be sent from the email address you wish to subscribe or unsubscribe. To subscribe a cellphone to receive text messages, email Kevin Stewart noting:
List(s) you wish to subscribe to
Your cell phone number
Your service provider
---
Join the Front Range ALERT Users Group (FRAUG) email subscription list to receive information about system updates and new webpage features. After your request is approved you will begin receiving periodic information about the ALERT System. All replies will be moderated, so it may take some time before any reply is actually sent. Please do not use  'Reply All' unless you intend everyone on the list to read your reply.